I have fallen very behind with my reviews. Not with reading the books but with posting the reviews on this site. My bad, I know. My troubles started in December and just snowballed. So, I am going to be doing a couple of posts with mini-reviews. Not my preferred way of doing things but I need to catch up.
So, here goes nothing:
The Recipe Box
4 Stars
Publisher: St. Martin's Press
Date of publication: March 20th, 2018
Where you can find The Recipe Box: Amazon | Barnes and Noble
Book synopsis (from Goodreads):
Growing up in northern Michigan, Samantha "Sam" Mullins felt trapped on her family's orchard and in their pie shop, so she left with dreams of making her own mark in the world. But life as an overworked, undervalued sous chef at a reality star's New York bakery is not what Sam dreamed.
When the chef embarrasses Sam, she quits and returns home. Unemployed, single, and defeated, she spends a summer working on her family's orchard cooking and baking alongside the women in her life–including her mother, Deana, and grandmother, Willo. One beloved, flour-flecked, ink-smeared recipe at a time, Sam begins to learn about and understand the women in her life, her family's history, and her passion for food through their treasured recipe box.
As Sam discovers what matters most she opens her heart to a man she left behind, but who now might be the key to her happiness.
Review:
The Recipe Box is a book that will make you cry. The characters were well written and had depth. I did get annoyed with Sam and her choices. I felt that she acted like a teenager up until Angelo left her on the bridge. The recipes at the end of each chapter were an added bonus and had me itching to make them. Also, starting the chapters with the recipe that was going to be featured at the end was great. Overall, a great book that I would recommend to family and friends.
---
Before I Let You Go
4 Stars
Publisher: Harlequin – Graydon House (US & Canada), Graydon House
Date of publication: April 3rd, 2018
Where you can find Before I Let You Go: Amazon | Barnes and Noble
Book synopsis (from Goodreads):
The 2:00 a.m. call is the first time Lexie Vidler has heard her sister's voice in years. Annie is a drug addict, a thief, a liar—and in trouble, again. Lexie has always bailed Annie out, given her money, a place to sleep sent her to every kind of rehab. But this time, she's not just strung out—she's pregnant and in premature labor. If she goes to the hospital, she'll lose custody of her baby—maybe even go to prison. But the alternative is unthinkable.
As weeks unfold, Lexie finds herself caring for her fragile newborn niece while her carefully ordered life is collapsing around her. She's in danger of losing her job, and her fiancé only has so much patience for Annie's drama. In court-ordered rehab, Annie attempts to halt her downward spiral by confronting long-buried secrets from the sisters' childhood, ghosts that Lexie doesn't want to face. But will the journey heal Annie, or lead her down a darker path?
Both candid and compassionate, Before I Let You Go explores a hotly divisive topic and asks how far the ties of family love can be stretched before they finally break.
Review:
Before I Let You Go is a realistic look at addiction and how it affects the family. This book is not an easy read. I cried for most of the book. I cried for Annie and the trauma she endured. I cried for Lexie. I cried for the baby. I will warn that there are triggers in the book. They are sexual/physical abuse, drug use, newborn withdrawing from opioid addiction. I would recommend to family and friends but with a warning about the triggers. Overall, a good but hard read.
---
3 Stars
Publisher: St. Martin's Press, St. Martin's Paperbacks
Date of publication: February 27th, 2018
Where you can find Darkest Night: Amazon | Barnes and Noble
Book Synopsis (from Goodreads):
In this first novel in the explosive, brand-new romantic suspense Sons of Broad series from Tara Thomas comes a novel of deadly secrets and hidden danger. In the sultry streets of Charleston, one family, ruled by its powerful, take-no-prisoners sons, has risen to the top. But a merciless killer is out to destroy them…and everyone they hold close…
Exclusive bonus content available only in the print edition!
SHE THOUGHT SHE'D LOST HIM FOREVER
Tilly Brock has learned—the hard way—how to take care of herself. Once a pillar of Charleston society, her family lost everything in the wake of a shocking scandal. And then Tilly lost the only boy she ever loved.
BUT NOW THAT HE'S BACK IN HER LIFE
Keaton Benedict is Charleston's most notorious bachelor. But in spite of all his advantages—the money, the women, the family name—he longs for more: the heart of the young woman he still can't forget.
THE DANGER HAS JUST BEGUN…
When Keaton re-enters Tilly's life, after all these years, she is torn between feelings of doubt and desire. Can they put the past behind them and learn to love again? Tilly is willing to try. But Keaton is afraid that a vengeful enemy is watching—and waiting to destroy them. Can the rekindled flame of their love defeat the deadliest rival and light their way forward in the darkest night?
Review:
I did like reading Darkest Night but it didn't quite gel with me. I couldn't connect with the main characters and felt that the story was a bit flat in places. I also felt that that the book raised more questions than it answered. Would I read it again? I don't know.
---
The Lightning Stenography Machine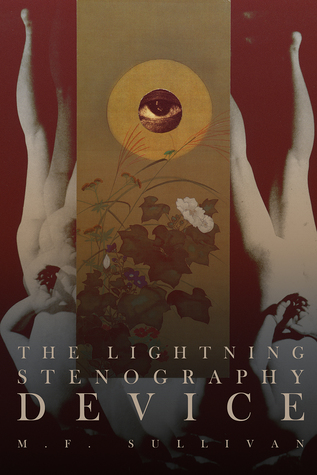 2 stars
Publisher: Painted Bling Publishing
Date of publication: March 19th, 2018
Where you can find The Lightning Stenography Device: Amazon | Barnes and Noble
Book synopsis (from Goodreads):
The first marketable thought to text device is released for public consumption in 2031. That same year, author Cassius Wagner will have a seizure. At least, that is what the novel says: the novel to which he awakens in fragments one morning after a late night of writing. This novel. Terrified to have a prophetic manuscript unfurling at his heels, his desperation to evade his fate prevents him from considering that his lover and editrix, Katherine Beauvoir, might be wrestling with a destiny of her own. Told in four psychedelic parts which peak with the fable of a sublingual Huntress as she fights to save her King, THE LIGHTNING STENOGRAPHY DEVICE blurs the speculative fiction and fantasy genres to explore the fabric of literature, and the boundaries of reality.
Review:
When I started reading The Lightning Stenography Device, I thought it was a great premise for a book. But, as I kept reading, the more confusing the book became too me.  At one point, during Cassius's chapters, I had to stop reading and I almost DNF'd. But, I have a personal vow to never stop reading a book and I picked it back up. I will say that the book was beautifully written and was very descriptive. I do think that the author should have stuck to two people to follow. It would have made the book less confusing. I would not recommend this book to family and friends and I would not reread.
—————————————————————————————————————————————–
Blood Veil
3 Stars
Publisher: Random House Publishing Group, Loveswept
Date of publication: April 3rd, 20108
Where you can find Blood Veil: Amazon | Barnes and Noble
Book synopsis (from Goodreads):
Celia: Having never known my parents, I've always felt like an orphan. All I want is a normal life. But after I'm attacked in my bedroom by one vampire—and rescued by another—it's about time to give up on "normal" once and for all. Idris, the second in command of the Gregorie vampire clan, has come to my aid, but his motives for saving me are unclear. And what surprises me most is my attraction to his heated gaze. . . .
Idris: Terror. Curiosity. Arousal. These are the natural impulses of a human female, not the spawn of the ruthless Valarian king. Is it possible that Celia is unaware of her bloodline—and the power coursing through her veins? As the daughter of my archenemy, she was supposed to be my ransom. But how quickly the heat of desire changes everything. Now the family Celia has always craved is trying to kill her, and it's up to me to save her again—when all I really want to do is make her mine.
Review:
A good 2nd book in the Mission series. I did think that Celia was a little too trusting and compliant. If I had a man kidnap me and tell me what Idris told me, I would have been actively trying to escape. I also thought that Idris had a big chip on his shoulder. The sex scenes were steamy. I was shocked at the twist towards the end of the book and can't wait to see what book 3 will bring.
---
Joanna's Highlander
4 Stars
Publisher: Random House Publishing Group, Loveswept
Date of publication: April 10th, 2018
Where you can find Joanna's Highlander: Amazon | Barnes and Noble
Book synopsis (from Goodreads):
Haunted by lost love, Grant MacDara still dreams of tenth-century Scotland. Nothing can soothe his aching heart—until a sharp-tongued, redheaded beauty leads a tour of senior citizens through his family's North Carolina theme park, Highland Life and Legends. Though she's the polar opposite of the lass he left behind, Joanna Martin is the most irresistible woman Grant has ever met. But when he decides that she's worth the risk of loving again, he tries so hard to hold her close that she nearly slips through his fingers.
Forced out of her job as a pharmaceutical sales rep by a conniving ex, Joanna is trying to make the best of her quiet new life. But one glimpse of Grant—who wields an ancient hammer like it's just another appendage of his chiseled body—convinces Joanna not to give up on love. The one thing she can't do is outrun her past as a loser magnet. And although Grant seems to be the last honorable man left on earth, this mouthwatering stud needs a crash course in twenty-first-century women before Joanna can trust him with her heart.
Review:
Great 2nd book in the Highlander Protector series. The chemistry between Joanna and Grant was electric. I did get annoyed by Joanna and her reluctance to let Grant in but once her past was revealed, I understood. I also got annoyed with Grant and his unwillingness to accept his role that the gods had for him. The sex was fantastic and I loved the ending.
---
Lost to a Spy
4 Stars
Publisher: Random House Publishing Group, Loveswept
Date of publication: March 13th, 2018
Where you can find Lost to a Spy: Amazon | Barnes and Noble
Book synopsis (from Goodreads):
Ladies in waiting can't help noticing more than they let on. After so many years at the court of Mary, Queen of Scots, Emma Howard sees quite plainly that the royal couple is anything but happy. Reeling from a failed marriage herself, Emma sympathizes with her beloved queen. But the last thing she wants is for the king to be murdered, let alone to witness the shocking act herself. With her whole world turned upside-down, Emma is saved by the quick thinking of a lowly printer . . . who, unbeknownst to her, is one of England's most daring spies.
At Queen Elizabeth's behest, Tristan has been stirring discontent against the Scottish nobility. Now that the king is dead, his mission is even more critical. There's only one complication: the exquisite courtier who's unexpectedly fallen under Tristan's protection. Emma rouses his body and his soul. But after she learns that he's a traitor, the fate of two nations hangs on her response. Tristan's prepared to risk his life in exchange for hers. Will Emma do the same for the man she's come to love?
Review:
Fast paced romance that takes place in Tudor Era England. The chemistry between Tristian and Emma was off the charts. The sex was even better. The intrigue was suspenseful and I was literally on edge at the end of the book. Love this series and can't wait to book 4!!
---
Kiss Me Back
4 Stars
Publisher: Random House Publishing Group, Loveswept
Date of publication: March 27th, 2018
Where you can find Kiss Me Back: Amazon | Barnes and Noble
Book synopsis (from Goodreads):
The only thing hotter than the Miami sun is the sexual tension at Panic, the South Beach nightclub where love knows no boundaries.
Lola: I've seen the way women in line behind the velvet rope look at William Fox like he's an Armani-clad St. Peter at the pearly gates. Except Panic isn't heaven, and this bouncer is no saint. He's been tempting me to sin ever since I started working here, but Fox's slick smile and bad-boy swagger tell me everything I need to know about him. Still, a girl has needs. And Fox looks ready to fulfill every last one—at least for a night. . . .
Fox: I'm not used to being ignored—especially by women—but Lola Daye is different. The pretty bartender with the red lips and icy blue eyes seems perfectly happy pretending I don't exist. Too bad, because the more she ignores me, the harder I fall. So I'm floored when she answers my drunken, flirty text with a yes. Lola claims she only wants a fling, but after one kiss, our bodies are speaking the same language. And I'm ready to prove that what we have could be forever.
No cheating. No cliffhangers. And no dress code.
Review:
Sizzling hot romance. I absolutely loved Fox and Lola together. My only issue with the book was that Lola gave off the impression that she was embarrassed about being deaf. Other than that, loved the book. The chemistry and sex between Fox and Lola were off the chart. Loved the ending. Can't wait to read book 4!!!
---
School for Psychics
3 Stars
Publisher: Simon & Shuster
Date of publication: April 3rd, 2018
Where you can find School for Psychics: Amazon | Barnes and Noble
Book synopsis (from Goodreads):
An entrancing new series starring a funny, impulsive, and sometimes self-congratulatory young woman who discovers she has psychic abilities—and then must decide whether she will use her skills for good or…not.
Teddy Cannon isn't your typical twenty-something woman. She's resourceful. She's bright. She's scrappy. She can also read people with uncanny precision. What she doesn't realize: she's actually psychic.
When a series of bad decisions leads Teddy to a run-in with the police, a mysterious stranger intervenes. He invites her to apply to the School for Psychics, a facility hidden off the coast of San Francisco where students are trained like Delta Force operatives: it's competitive, cutthroat, and highly secretive. They'll learn telepathy, telekinesis, investigative skills, and SWAT tactics. And if students survive their training, they go on to serve at the highest levels of government, using their skills to protect America and the world.
In class, Teddy befriends Lucas, a rebel without a cause who can start and manipulate fire; Jillian, a hipster who can mediate communication between animals and humans; and Molly, a hacker who can apprehend the emotional state of another individual. But just as Teddy feels like she's found where she might belong, strange things begin to happen: break-ins, missing students, and more. It leads Teddy to accept a dangerous mission that will ultimately cause her to question everything—her teachers, her friends, her family, and even herself.
Set in a world very much like our own, School for Psychics is the first book in a stay-up-all-night series. 
Review:
Loved the storyline but didn't like the main character. Teddy drove me crazy for almost the entire book. I didn't like her and thought she was very abrasive and self-centered. I did start to like her at the very end of the book. I thought the storyline, while not original, was very well written. It kept me captivated. I did think that the book raised more questions than answered them. Saying that I need to read book 2 to see if they are answered there.
---
Dirty Games
3 Stars
Publisher: Random House Publishing Group, Loveswept
Date of publication: March 20th, 2018
Where you can find Dirty Games: Amazon | Barnes and Noble
Book synopsis (from Goodreads):
Sometimes, to get what you want in business or in love, you have to get your hands dirty. Luckily for Finn and Justin, dirty comes naturally.
Finn Drummond is the baby in a family of sharks—which means he's worked twice as hard to make a name for himself. After learning the tricks of the trade from his brothers, Finn's just as ruthless and dominant. Out in the field, his appetites are legendary: for success, for money, for women and men. But when supplies from Drummond Charities go missing, Finn has to partner up with the smoldering ex-Army grunt who's always challenging his authority—or giving him mixed signals.
Justin Miller wanted his attraction to Finn to be mutual, but the cocky brat always had a girlfriend. Who could blame Justin for trying to move on? Despite their history, they've got to work together to figure out who's been derailing their humanitarian work. But after Justin and Finn are thrown together against gunrunners and kidnappers, their simmering chemistry turns explosive. Turns out, Finn knows how to handle himself in a crisis—and in the sack. Justin only hopes that hot sex is enough to persuade this spoiled pretty boy to do the right thing.
Review:
As much as I liked the first book in the Dirty series, I couldn't make myself like this book. It seemed rushed with Finn and Justin's romance forced. I liked Finn fine, it was Justin that left me with a sour taste in my mouth. I thought, like Alec, that he was going through the Drummond brothers. I thought that the substory line was interesting and I was surprised at who the bad guy was. I am looking forward to reading book 3.
---
So that's it. All caught up on my NetGalley reviews. Tomorrow, I have 3 author reviews that will be going up. Then I am done. And I have learned my lesson. No putting reviews off or you end up with a backlog….lol