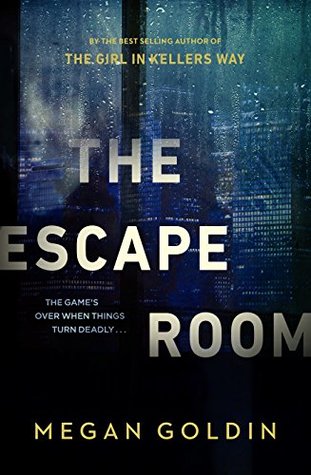 3.5 Stars
Publisher: St. Martin's Press
Date of publication: August 6th, 2019
Genre: Mystery, Thriller
Where you can find The Escape Room: Amazon | Barnes and Noble
Goodreads synopsis:
'Welcome to the escape room. Your goal is simple. Get out alive.'
In the lucrative world of Wall Street finance, Vincent, Jules, Sylvie, and Sam are the ultimate high-flyers. Ruthlessly ambitious, they make billion-dollar deals and live lives of outrageous luxury. Getting rich is all that matters, and they'll do anything to get ahead.
When the four of them become trapped in an elevator escape room, things start to go horribly wrong. They have to put aside their fierce office rivalries and work together to solve the clues that will release them. But in the confines of the elevator, the dark secrets of their team are laid bare. They are made to answer for profiting from a workplace where deception, intimidation and sexual harassment thrive.
Tempers fray and the escape room's clues turn more and more ominous, leaving the four of them dangling on the precipice of disaster. If they want to survive, they'll have to solve one final puzzle: which one of them is a killer?
---
My review:
Personally, I have never done an escape room. I do not have any desire to do one. I couldn't take being stuck in a place with 4-5 other people and need to decipher clues to get out. Nope, not for me. BK, on the other hand, has done one. He said it was exciting to do.
So, when I saw that the plot of The Escape Room centered around an escape room in an elevator, I got interested. Talk about the ultimate escape room. Think about it. You are crammed into a small space. There is no way out. No water. No nothing. No thank you. That is one of my phobias, being stuck in an elevator. Even reading the scenes when they were stuck in an elevator freaked me out.
I liked that Sara's chapters of the book were written in the first person. I got a better sense of how she was as a person. I understood what drove her to take that position on Wall Street and what kept her there. I am not going to go much into her story from that point on because I will be giving away some major spoilers.
The escape room plotline was very well written. Each person in that elevator deserved to be there. I wouldn't go as far as to say that they were terrible people, but I will say that money doesn't bring out the best in people. The longer that they were in the elevator, the more I got to know their demons. I will say that each person showed up in Sara's POV too. Not going to say how but they were a significant part of everything that happened to her.
The storyline with Lucy broke my heart. I couldn't believe what she was put through. I don't think I truly understood what she went through until it was brought up (by a clue) in the elevator. Let's just say that it was a despicable thing to do to a coworker.
I am not sure if I agreed or liked how The Escape Room ended. I will admit that the whole plan to get those people into the elevator was well thought out and executed. As was getting that money. But I didn't agree with the mastermind not knowing what happened after that person left the country. There was no closure. Only a scene in the water and a sense of a job well done by the mastermind.
---
I would give The Escape Room an Adult rating. There is no sex (there is mention of sexual situations). There is language. There is violence. There are triggers. They would be sexual assault and assault.
I would reread The Escape Room. I would also recommend this book to family and friends.
---
I would like to thank the author, the publisher and NetGalley for allowing me to read and review The Escape Room.
All opinions stated in this review of The Escape Room are mine.