Top Ten Tuesday was created by The Broke and the Bookish in June of 2010 and was moved to That Artsy Reader Girl in January of 2018. It was born of a love of lists, a love of books, and a desire to bring bookish friends together.
How it works:
She assigns each Tuesday a topic and then posts her top ten list that fits that topic. You're more than welcome to join me and create your own top ten (or 2, 5, 20, etc.) list as well. Feel free to put a unique spin on the topic to make it work for you! Please link back to That Artsy Reader Girl in your own post so that others know where to find more information.
---
This is my first TTT!! I am excited to be doing it and hoping that it becomes a regular thing. So, with no further ado, here's my list. If you want to peek at my Waiting to be Reviewed list on Goodreads….here's the link
---
Between the Lies
The truth is hiding between the lies.
A page-turning psychological thriller with twists that keep the reader guessing until last page, this addictive read will be loved by fans of Shari Lapena's A STRANGER IN THE HOUSE and Liz Lawler's DON'T WAKE UP.
What would you do if you woke up and didn't know who you were?
Chloe Daniels regains consciousness in a hospital with no memory of how she got there. 
She doesn't recognise the strangers who call themselves family. She can't even remember her own name.
What if your past remained a mystery?
As she slowly recovers, her parents and sister begin to share details of her life. 
The successful career. The seaside home. The near-fatal car crash.
But Chloe senses they're keeping dark secrets – and her determination to uncover the truth will have devastating consequences.
What if the people you should be able trust are lying to you?
It's Getting Scot in Here
The first in a wickedly seductive new Scottish historical romance series from New York Times bestselling author Suzanne Enoch!
Marry or lose their estate; that's the devil's bargain he and his brothers must follow. But wild Highlander Niall MacTaggert's stubborn oldest brother wants nothing to do with marrying the sophisticated, pinky-out Lady Amelia-Rose his mother has chosen for him, even to save their land. Niall's only goal is to soften up the London socialite, and show his brother the warm beauty behind the shiny, polished front. But what Niall doesn't expect to find is the woman of his dreams…
The Betrayer
With the Second Rebellion raging in the city, Curtis Geary, the Keepers' tech guru, receives a Compulsion for Jordan, a Betrayer ousted by her brood and left for dead. His orders? Obtain information from her that can save his clan—before it's too late. Plunged into a war zone, cut off from his clan, Curtis quickly discovers this woman is no ordinary Betrayer. Not only does his Vitality energy inexplicably save her life, she may be the missing link in the Keepers' quest to restore Similitude—the Betrayers' manufactured weapon deadly to Keepers.
Despised by her own brood, Jordan's mysterious ability and a wicked set of street smarts have kept her alive—along with the havoc she's been forced to wreak on humans as a means of creating dark energy. Against his better judgement, Curtis is helplessly drawn to this enigma of a woman, who defies the logic of his trusty computers. Too, despite a lifetime of mistrust and her soldier's survival instincts, Jordan can't help falling for this at times awkward but genuine man who offers her what she's always yearned for—love and an opportunity for a better life.
But in a race against time and a brood master hell-bent on destruction, love and loyalty will come under fire—within the brood and the clan. Can Jordan find the courage to embrace her future and find love? Or will she betray the clan and herself as the Keepers wage what may be their final battle to save the human race?
Love, Again
Aubrey Reynolds is a small-town girl who's made it big. A successful Hollywood director, Aubrey doesn't have time to linger on what could have been. But when a routine blood test comes back with a false positive, she decides to take some time off to do the things she's always wanted to do: taste the famous chocolate chip cookies at the Minnesota State Fair, hike the Grand Teton National Park, scuba dive in the Caribbean. But after Aubrey admits to herself what she's really missing, she heads back home to Dusty Valley, Oklahoma . . . and the man she left behind.

Cole Haywood is a small-town fireman and that's just fine with him. Sure, when the love of his life left their hometown to chase her dreams he was heartbroken and—he'll admit—damn mad. But Cole would have never forgiven himself if he had held Aubrey back from success. So the last thing he expects after all these years is to walk into his favorite bar one night and find the girl he's always loved—there—looking for him. Maybe now's the time to make his dreams come true. 
The Ash Family
When a young woman leaves her family—and the civilized world—to join an off-the-grid community headed by an enigmatic leader, she discovers that belonging comes with a deadly cost, in this lush and searing debut novel.
At nineteen, Berie encounters a seductive and mysterious man at a bus station near her home in North Carolina. Shut off from the people around her, she finds herself compelled by his promise of a new life. He ferries her into a place of order and chaos: the Ash Family farm. There, she joins an intentional community living off the fertile land of the mountains, bound together by high ideals and through relationships she can't untangle. Berie—now renamed Harmony—renounces her old life and settles into her new one on the farm. She begins to make friends. And then they start to disappear.
Thrilling and profound, The Ash Family explores what we will sacrifice in the search for happiness, and the beautiful and grotesque power of the human spirit as it seeks its ultimate place of belonging.
The Invited
A chilling ghost story with a twist: the New York Times best-selling author of THE WINTER PEOPLE, returns to the woods of Vermont to tell the story of a husband and wife who don't simply move into a haunted house, they start building one from scratch, without knowing it, until it's too late…
In a quest for a simpler life, Helen and Nate abandon the comforts of suburbia and teaching jobs to take up residence on forty-four acres of rural land where they will begin the ultimate, aspirational do-it-yourself project: building the house of their dreams. When they discover that this charming property has a dark and violent past, Helen, a former history teacher, becomes consumed by the legend of Hattie Breckenridge, a woman who lived and died there a century ago. As Helen starts carefully sourcing decorative building materials for her home – wooden beams, mantles, historic bricks — she starts to unearth, and literally conjure, the tragic lives of Hattie's descendants, three generations of "Breckenridge women," each of whom died amidst suspicion, and who seem to still be seeking something precious and elusive in the present day.
A Life for a Life
When a young woman is found dead in a wilderness area of the North Carolina mountains, the county sheriff says suicide. Della Kincaid disagrees. As a former reporter in Washington, D.C., she knows how to hunt down the real story. But she's living in Laurel Falls, N.C., trying to revive a struggling general store and create a new life for herself. Without her usual sources, she turns to an unlikely cast of characters—friends, customers, ex-husband, and forger. With their help, she uncovers how unbridled greed has spawned an interwoven series of crimes and sorrows. Along the way, Kincaid discovers how much the Appalachian landscape and its people mean to her.
The Woman in the Lake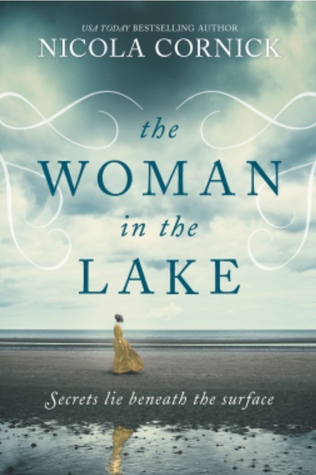 London, 1765
Lady Isabella Gerard, a respectable member of Georgian society, orders her maid to take her new golden gown and destroy it, its shimmering beauty tainted by the actions of her brutal husband the night before.
Three months later, Lord Gerard stands at the shoreline of the lake, looking down at a woman wearing the golden gown. As the body slowly rolls over to reveal her face, it's clear this was not his intended victim…
250 Years Later…
When a gown she stole from a historic home as a child is mysteriously returned to Fenella Brightwell, it begins to possess her in exactly the same way that it did as a girl. Soon the fragile new life Fen has created for herself away from her abusive ex-husband is threatened at its foundations by the gown's power over her until she can't tell what is real and what is imaginary.
As Fen uncovers more about the gown and Isabella's story, she begins to see the parallels with her own life. When each piece of history is revealed, the gown—and its past—seems to possess her more and more, culminating in a dramatic revelation set to destroy her sanity.
Breaking His Rules
An international playboy finds true love in a sexy new standalone contemporary romance from Aliza Mann.

Ashton Lyle is a man in control. His rules are simple:
Discipline.
Hard work.
No deviation.
And lucky for him no one is able to resist his mega-watt smile, dazzling wit, sexy British accent, and ability to manipulate any situation in business . . . and in bed.
That is, until he meets a woman with rules of her own.
Terra Ellis is a self-made woman who knows what she wants.
A successful entrepreneur, she has worked hard to cultivate an impeccable image.
A tumultuous relationship with her ex-husband has reinforced her drive but it has also made her question serious relationships.
After all, a busy woman has no time for romance.
That is, until Terra meets a man who sees through her façade.
Ashton and Terra are about to discover that some rules were made to be broken. . . .
The Queen's Opal
Elves never use magic or leave the forest.
They aren't supposed to get sick either, but Drynn's mother just died from a mysterious illness, which has targeted the elven queens for generations. With no female heir left, the symbol of the curse—a green stone called the Queen's Opal—passes to Drynn. Unwilling to lose another family member, Drynn's impulsive and overprotective brother drags him out of the forest to search for a cure. And the oft-diseased humans seem the most likely place to start.
But the opal isn't all that it seems. Once outside the forest, it shows Drynn visions of the first queen—a time when the mortal avatars of the lost gods walked the earth and the humans and elves lived in peace. Much has changed in the human lands since then. It's a darker world, ruled by power-hungry wizards who covet any kind of magic. Magic like the opal. Magic like the natural energy the wizards can see inside the elves.
More than healing one illness, Drynn's visions call for him to restore the world's former peace, but if the wrong wizard learns about the elves' innate gifts, even the forest will no longer be safe. 
Family bonds will be tested. Friends will become foes. With two kingdoms spiraling into chaos, can a shy bookworm conquer his fears to bring peace to the realm?