WWW Wednesday is a weekly meme hosted by Sam at Taking on a World of Wars. So here what I have read/are reading/will be reading.
The Three Ws are:
What are you currently reading?
What did you recently finish reading?
What do you think you'll read next?
---
Personal:
Nothing much. After my kids got out of school last Thursday, things have been pretty quiet. Christmas was fantastic. Things went smoothly (well we did have an incident with our burner catching on fire…lol).
Reading/Reviews:
I am behind writing reviews. My busy past month has set me back. I am hoping to catch up this week. I am also going to be changing how I write my reviews. Not sure how I am going to do that. I haven't quite worked that out in my mind. Reading, I am about where I want to be.
---
What I am currently reading:
click on the picture for Amazon link
The night before…and the nightmare after.
Rosie and Laura are as different as two sisters can be. One is stable and has a perfect family. The other struggles to break free from her troubled past. When Laura disappears after going on a blind date, Rosie takes matters into her own hands. 
But as Rosie begins to search for her sister, her greatest fears come to the surface. Could Laura be more of a danger than the stranger she meets or is the night before her last night alive? 
Told in dual timelines—the night before and the day after—The Night Before is a riveting thriller about family loyalty, obsession, and what happens when the desire for love spins out of control.
I started The Night Before last night. I am only a couple of chapters in and I am not sure how I like it. Since I like Wendy Walker, I am hoping that I end up liking the book. The Night Before is currently on pre-order. It's expected publication date is May 14th, 2019. Be on the lookout for my review after that date.
---
What I recently finished reading:
In the final chapter of the Cage Series, Wyatt must lay everything on the line as he attempts to save not only Jess and Natalie but also prevent a war between angels and demons. The only way to thwart this travesty is to find the Key of Light, a small amulet once believed to be a myth by The Guardian Order, now a necessity to keep innocence safe. In Maddock's hands, the key will allow him to open a gateway straight into the heart of Heaven and unleash the full power of Hell's might…revenge for their fall from grace. The struggle, however, comes when Wyatt is told his daughter is the sacrificial lamb to be slain by none other than her mother, to bring forth Maddock's own son so he may lead his father's army against Heaven. Enraged, Wyatt leads the charge to find his family, but is warned not to give in to the power within, if he lets his angelic half consume him, he will no longer be allowed to remain on earth to live the life of peace for which he so desperately longs, he will have no other choice but to return to Heaven a full-fledged angel. However, to defeat Maddock, he may have to pay with the cost of his mortal soul.
Tom Howard is one of my favorite Indie authors. He knows how to spin a good tale. I enjoyed reading Deadly Cage. It was full of angels, demons, and horror. Deadly Cage is currently not available for order. Because of that, my review is being held off for right now (well, until Tom emails me with the Amazon link). Be on the lookout for my review in the near future!!
---
What books I think I'll read next? (click on the pictures for Amazon links)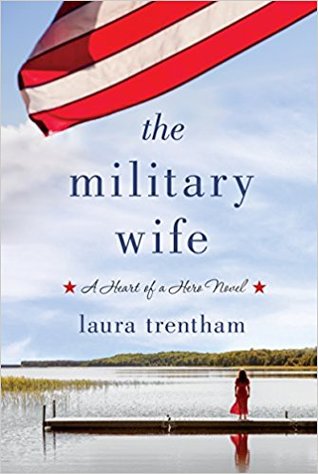 An emotionally layered novel about family, loss and what it means to be a military wife. 
Harper Lee Wilcox has been marking time in her hometown of Kitty Hawk, North Carolina since her husband, Noah Wilcox's death, nearly five years earlier. With her son Ben turning five and living at home with her mother, Harper fights a growing restlessness, worried that moving on means leaving the memory of her husband behind.
Her best friend, Allison Teague, is dealing with struggles of her own. Her husband, a former SEAL that served with Noah, was injured while deployed and has come home physically healed but fighting PTSD. With three children underfoot and unable to help her husband, Allison is at her wit's end.
In an effort to reenergize her own life, Harper sees an opportunity to help not only Allison but a network of other military wives eager to support her idea of starting a string of coffee houses close to military bases around the country.
In the pursuit of her dream, Harper crosses paths with Bennett Caldwell, Noah's best friend, and SEAL brother. A man who has a promise to keep, entangling their lives in ways neither of them can foresee. As her business grows so does an unexpected relationship with Bennett. Can Harper let go of her grief and build a future with Bennett even as the man they both loved haunts their pasts?
I was taken in by the blurb when I was approached by the publisher with a review request. It caught my attention and made me want to read it. I am hoping that it is as good as I think it is. The Military Wife is currently on pre-order. Its expected date of publication is February 5th, 2019. I am part of the blog tour. So look for the excerpt the week of January 28th and my review on February 10th, 2019.
In this intense and intimate family portrait that moves at a thriller's pace, a troubled woman faces a gripping moral dilemma after rescuing two abandoned children from a hurricane.
On the outskirts of North Carolina's Outer Banks sits The Paradise, an apartment complex where renters never stay long enough to call the place "home"–and neighbors are seldom neighborly. It's ideal for Sara Lennox, who moved there to escape a complicated past–and even her name–and rebuild a new life for herself under the radar. But Sara cannot help but notice the family next door, especially twelve-year-old Cassie and five-year-old Boon. She hears rumors and whispers of a recent tragedy slowly tearing them apart.
When a raging storm threatens then slams the coastal community, Sara makes a quick, bold decision: Rescue Cassie and Boon from the storm and their broken home–without telling a soul. But this seemingly noble act is not without consequences. Some lethal.
Carla Buckley crafts a richly rewarding psychological portrait, combining a heart-wrenching family drama with high-stakes suspense, as the lives of three characters intertwine in an unforgettable story of fury, fate–and redemption.
This was a book that I had wished for on NetGalley and it was granted. Seeing that I never get my wishes granted on there it is a miracle. I was intrigued by the plot. The Liar's Child is currently on pre-order. Its expected publication date is March 12th,2019. Look for my review after that date.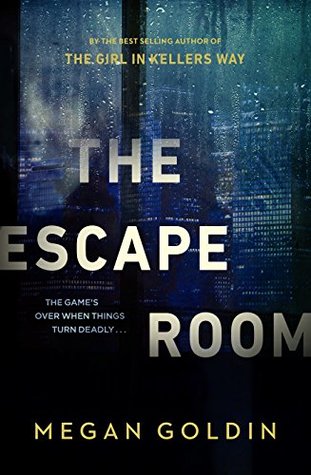 'Welcome to the escape room. Your goal is simple. Get out alive.' 
In the lucrative world of Wall Street finance, Vincent, Jules, Sylvie, and Sam are the ultimate high-flyers. Ruthlessly ambitious, they make billion-dollar deals and live lives of outrageous luxury. Getting rich is all that matters, and they'll do anything to get ahead.
When the four of them become trapped in an elevator escape room, things start to go horribly wrong. They have to put aside their fierce office rivalries and work together to solve the clues that will release them. But in the confines of the elevator, the dark secrets of their team are laid bare. They are made to answer for profiting from a workplace where deception, intimidation and sexual harassment thrive.
Tempers fray and the escape room's clues turn more and more ominous, leaving the four of them dangling on the precipice of disaster. If they want to survive, they'll have to solve one final puzzle: which one of them is a killer?
I am looking forward to reading The Escape Room. The blurb makes it sound like it is going to be a great thriller. The Escape Room is currently on preorder. Its expected publication date is April 6th, 2019. Look for my review after that date.
First in a brand-new series from #1 New York Times bestselling author Lora Leigh and Veronica Chadwick about one man's pursuit of justice—and unbridled desire.
LAW AND ORDER. 
For as long as Samantha can remember, Hunter—a man as strong as steel, with a heart of gold—has been her hero. It came as no surprise to Samantha when she found out that the ranch-hardened cowboy who always protected her from bullies went on to become the town's sheriff. What does surprise her is how incredibly hot he still is. And how much she still wants him…
PRIDE AND PASSION
And, lo and behold, Hunter still has feelings for Samantha. The long-smoldering heat of their innocent flirtation has grown into a full-raging fire. But when tragedy strikes and their small-town community is shattered, Hunter vows to do everything he can to keep his childhood sweetheart safe. But can Samantha trust that Hunter has her best interests at heart…and that, after all these years, his love is true?
I like cowboy romances. They are a guilty pleasure for me to read. I also like Lora Leigh. So I needed to read this book. One Tough Cowboy is currently on pre-order. Its expected publication date is January 29th, 2019. Be on the lookout for my review after that date.
When Walker Barnes walked into Jen Summers' catering event, all the shame, guilt and regret for what she'd done to him in high school roared back to life. As well as the feelings she'd once had for him. 
But this Walker isn't the shy, awkward geek from high school — he's tough, successful, brilliant, confident… and sexy. And he hasn't forgotten how she used him. Hasn't forgiven her, either. This Walker is looking for payback. 
How on earth can she be falling for him all over again? 
I have reviewed for Margaret Watson before. Her romances are always solid, enjoyable reads. So when she approached me to review Can't Stand the Heat, I jumped on it. Can't Stand the Heat is currently available to buy. Be on the lookout for my review at some point in the near future.
---
So that's it. Be on the lookout for the reviews of all these books in the near future.
Have you read any of these books?
Let me know what you thought of them!!