WWW Wednesday is a weekly meme hosted by Sam at Taking on a World of Wars. So here what I have read/are reading/will be reading.
The Three Ws are:
What are you currently reading?
What did you recently finish reading?
What do you think you'll read next?
---
What's going on with me this past week:
Personal:
The kids finally went back to school on Thursday (except Miss R). It was a 3-hour delay but hey, they still went. I noticed that Miss R's eyes were junky. They were worse on Friday (so she didn't go to school) and I took her into the Dr. She had pink eye, which didn't surprise me. What did surprise me was the double ear infections. Not a peep out of her that her ears were hurting. So, eye drops and antibiotics. Which hasn't been easy. She has been fighting them both from day one.
Miss B had her Winter Concert Monday night. They nailed it!!! Here's one of the songs that they performed: 
Miss R had her preschool Christmas play today. It was cute. Miss R was an angel. An angel who's halo kept slipping down over her face…lol. They had cookies and water afterward and then a regular school day. She is now home on break until January 1st.
Mr. Z's Winter sing-a-long is tomorrow. Normally, I don't go to those but the 5th grade are putting on a bell concert mid-sing-a-long. Mr. Z is playing C sharp. Is he nervous, I have no clue. He won't answer me when I ask him.
I am still having issues with Miss B turning in her homework and classwork. Right now, she is barely passing ELA. I was going to talk to the teacher (because Miss B told us that she was grading work that wasn't done). I found out last night that Miss B was lying about that. So, she needs to get all of her missing work and she is completing it tonight. If she doesn't get it, she is grounded from her phone/laptop/XBox. And she won't be going on a field trip to Charlotte Motor Speedway (which includes a lap around the track with a driver). She knows that I am serious. I am just hoping she brings the work home.
Reading/Reviews
I am behind on reviews. But, I blame Christmas for that. I have been wrapping presents during the time I would normally write my reviews. I am done with the wrapping, though, so hopefully, I will be catching up with reviews.
As for reading, I am pretty good. I am about where I want to be right now. I am still a couple of books behind. I am putting the blame on that because I decided I was going to play WoW instead of reading. LOL.
---
What I am currently reading:
click on the picture for Amazon link
"Mother knows best" takes on a sinister new meaning in this unsettling thriller perfect for fans of Neil Gaiman and Grimms' Fairy Tales.
Everyone says Lauren Tranter is exhausted, that she needs rest. And they're right; with newborn twins, Morgan and Riley, she's never been more tired in her life. But she knows what she saw: that night, in her hospital room, a woman tried to take her babies and replace them with her own…creatures. Yet when the police arrived, they saw no one. Everyone, from her doctor to her husband, thinks she's imagining things.
A month passes. And one bright summer morning, the babies disappear from Lauren's side in a park. But when they're found, something is different about them. The infants look like Morgan and Riley―to everyone else. But to Lauren, something is off. As everyone around her celebrates their return, Lauren begins to scream, These are not my babies.
Determined to bring her true infant sons home, Lauren will risk the unthinkable. But if she's wrong about what she saw…she'll be making the biggest mistake of her life.
Compulsive, creepy, and inspired by some of our darkest fairy tales, Little Darlings will have you checking―and rechecking―your own little ones. Just to be sure. Just to be safe.
I am almost done with this book. My Kindle pooped out last night because I forgot to charge it. The book itself is creepy. I love how the author is playing up what is happening to Lauren. But, at the same time, I can't help but wonder if something did happen to the twins. Little Darlings is currently on pre-order. Its expected publication date is May 10th, 2019. Be on the lookout for my review after that date.
---
What I recently finished reading:
A twisty, compelling novel about one woman's complicated relationship with her mother-in-law that ends in murder…
From the moment Lucy met her husband's mother, Diana, she was kept at arm's length. Diana was exquisitely polite, and properly friendly, but Lucy knew that she was not what Diana envisioned. But who could fault Diana? She was a pillar of the community, an advocate for social justice who helped female refugees assimilate to their new country. Diana was happily married to Tom and lived in wedded bliss for decades. Lucy wanted so much to please her new mother-in-law.
That was five years ago.
Now, Diana has been found dead, a suicide note near her body. Diana claims that she no longer wanted to live because of a battle with cancer.
But the autopsy finds no cancer.
The autopsy does find traces of poison and suffocation.
Who could possibly want Diana dead?
Why was her will changed at the eleventh hour to disinherit both of her adult children and their spouses?
With Lucy's secrets getting deeper and her relationship with her mother-in-law growing more complex as the pages turn, this new novel from Sally Hepworth is sure to add to her growing legion of fans.
I was surprised at how much I liked this book. When I first started reading it, I thought I had who killed Diana pegged. The twist at the end of the book was surprising. The Mother-In-Law is currently on pre-order. Its expected publication date is April 23rd, 2019. Look for my review around that date.
---
What books I think I'll read next? (click on the pictures for Amazon links)
The night before…and the nightmare after.
Rosie and Laura are as different as two sisters can be. One is stable and has the perfect family. The other struggles to break free from her troubled past. When Laura disappears after going on a blind date, Rosie takes matters into her own hands.
But as Rosie begins to search for her sister, her greatest fears come to the surface. Could Laura be more of a danger than the stranger she meets or is the night before her last night alive?
Told in dual timelines—the night before and the day after—The Night Before is a riveting thriller about family loyalty, obsession, and what happens when the desire for love spins out of control.
I am a huge Wendy Walker fan. Having read her previous book, Emma in the Night, I needed to read this book. I am hoping that it is as good as I think it is going to be. The Night Before is currently on pre-order. Its date of publication is May 14th, 2019. Be on the lookout for my review after that date.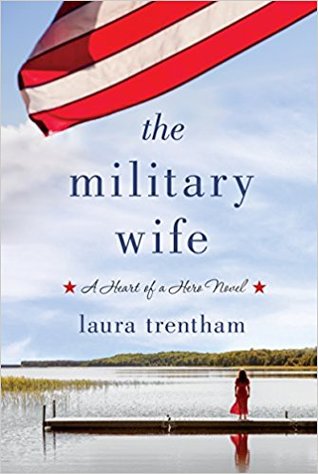 An emotionally layered novel about family, loss and what it means to be a military wife.
Harper Lee Wilcox has been marking time in her hometown of Kitty Hawk, North Carolina since her husband, Noah Wilcox's death, nearly five years earlier. With her son Ben turning five and living at home with her mother, Harper fights a growing restlessness, worried that moving on means leaving the memory of her husband behind.
Her best friend, Allison Teague, is dealing with struggles of her own. Her husband, a former SEAL that served with Noah, was injured while deployed and has come home physically healed but fighting PTSD. With three children underfoot and unable to help her husband, Allison is at her wit's end.
In an effort to reenergize her own life, Harper sees an opportunity to help not only Allison but a network of other military wives eager to support her idea of starting a string of coffee houses close to military bases around the country.
In the pursuit of her dream, Harper crosses paths with Bennett Caldwell, Noah's best friend, and SEAL brother. A man who has a promise to keep, entangling their lives in ways neither of them can foresee. As her business grows so does an unexpected relationship with Bennett. Can Harper let go of her grief and build a future with Bennett even as the man they both loved haunts their pasts?
I was taken in by the blurb when I was approached by the publisher with a review request. It caught my attention and made me want to read it. I am hoping that it is as good as I think it is. The Military Wife is currently on pre-order. Its expected date of publication is February 5th, 2019. I am part of the blog tour. So look for the excerpt the week of January 28th and my review on February 10th, 2019.
In this intense and intimate family portrait that moves at a thriller's pace, a troubled woman faces a gripping moral dilemma after rescuing two abandoned children from a hurricane.
On the outskirts of North Carolina's Outer Banks sits The Paradise, an apartment complex where renters never stay long enough to call the place "home"–and neighbors are seldom neighborly. It's ideal for Sara Lennox, who moved there to escape a complicated past–and even her name–and rebuild a new life for herself under the radar. But Sara cannot help but notice the family next door, especially twelve-year-old Cassie and five-year-old Boon. She hears rumors and whispers of a recent tragedy slowly tearing them apart.
When a raging storm threatens then slams the coastal community, Sara makes a quick, bold decision: Rescue Cassie and Boon from the storm and their broken home–without telling a soul. But this seemingly noble act is not without consequences. Some lethal.
Carla Buckley crafts a richly rewarding psychological portrait, combining a heart-wrenching family drama with high-stakes suspense, as the lives of three characters intertwine in an unforgettable story of fury, fate–and redemption.
This was a book that I had wished for on NetGalley and it was granted. Seeing that I never get my wishes granted on there it is a miracle. I was intrigued by the plot. The Liar's Child is currently on pre-order. Its expected publication date is March 12th, 2019. Look for my review after that date.
---
So that's it. Be on the lookout for the reviews of all these books in the near future.
Have you read any of these books?
Let me know what you thought of them!!