It is Foodie Friday. Every Friday, I will be putting up a recipe that I have made the previous week.
Today's recipe is:
Russian Teacake Bars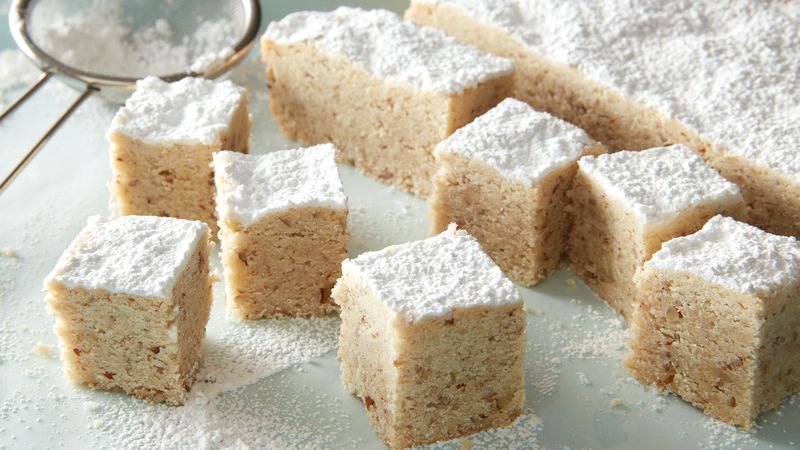 (recipe and picture courtesy of Betty Crocker. Click on the picture for link to the recipe)
---
Prep time**: 20 min
Cook time: 28 mins
Total time**: 1 hour 13 mins
Servings: 64**
---
Ingredients:
2 1/4 cups Gold Medal all-purpose flour
3/4 cup very finely chopped pecans
1/2 teaspoon baking powder
1/4 teaspoon salt
1 cup butter, softened**
1/2 cup granulated sugar
1/2 cup powdered sugar
1 egg
1 1/2 teaspoons vanilla
Topping
1/4 cup powdered sugar
---
How to Make
Heat oven to 350 degrees. Line an 8-inch square pan with foil, leaving foil overhanging at 2 opposite sides of the pan. Spray foil with cooking spray. In a small bowl, mix flour, pecans, baking powder, and salt. Set aside.
In a large bowl, beat softened butter, granulated sugar and 1/2 cup powdered sugar with electric mixer on medium speed about 1 min or until fluffy. Scrape side of the bowl. Beat in egg and vanilla. On low speed, gradually beat flour mixture into butter mixture until well-blended**. Spread in pan.
Bake 32 to 37 minutes or until light brown on top and edges.** Immediately sprinkle 2 tablespoons of the powdered sugar over top. Cool completely, about 1 1/2 hours**.
Remove bars from pan by lifting foil, peel foil away**. Cut into 8 rows by 8 rows. Sprinkle remaining 2 tablespoons powdered sugar over top of bars before serving**. Store in airtight container at room temperature.
---
What I did differently in this recipe (the ***'s)
I think my prep time took less time than that.
I did a no way when I saw the serving size
I accidentally melted the butter…lol
The mixture is dense.
I baked mine for 35 minutes. Turned out perfectly.
I left mine on the counter for almost 2 hours (I got busy)
If you spray the foil, this will be super easy.
I put the sugar on before I cut. I don't think it made a difference.
---
Was it hard to make: No, it wasn't. It was surprisingly easy. 
How long did it take me to make (compared to the recipe's prep+total time): It took me about the same time that the recipe said it would
Did BK and I like it: BK wasn't here. He had a business meeting to attend. I did send a picture to him and he said that that it looked good. I liked it. It was delicious. I thought it was going to hard but it was surprisingly soft and moist.
More importantly, did my kids like it: Yes. I consider it a small miracle because all 3 of my kids loved it. They already have asked for me to make more. And they have demolished the bars. There are only two left.
Will I make it again: Absolutely
Thoughts on the dish, after the fact: Very easy to make. Like I mentioned above, it was soft and moist. From the looks of it, I thought it was going to be hard and dry. I would change nothing about the recipe.
The difficulty of the dish: Beginner