It is Foodie Friday. Every Friday, I will be putting up a recipe that I have made the previous week.
Today's recipe is:
One Pot Lemon Pepper Chicken Pasta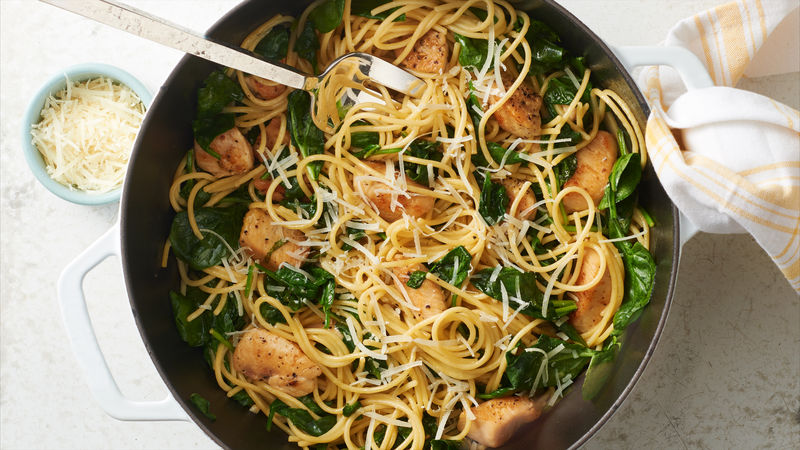 (recipe and picture courtesy of Betty Crocker. Click on the picture for link to the recipe)
---
Prep time**: 45 mins
Cook time: 28 mins
Total time**: 1 hour 13 mins
Servings: 6
---
Ingredients:
1 tablespoon olive oil
1 lb boneless skinless chicken breast, cut into bite-size pieces
1 teaspoon lemon pepper
1/2 teaspoon salt
1/4 teaspoon black pepper**
1 tablespoon finely chopped garlic
1 carton (32 oz) Progresso chicken broth**
8 oz spaghetti pasta, from a 16-oz box and broken in half**
1/2 cup shredded Parmesan cheese (separated into 1/4 cups)
2 tablespoons butter
1 tablespoon lemon juice and 2 teaspoons grated lemon peel from 1 large lemon**
2 bags (5 oz each) baby spinach**
---
How to Make
In 5 to 6-quart Dutch oven**, heat olive oil over medium-high heat. Season chicken with lemon pepper, salt, and black pepper**. Cook chicken in oil 5 to 7 minutes, stirring occasionally, until chicken is no longer pink. Remove chicken to plate. Cover and keep warm**.
Add garlic to Dutch oven. Cook 30 to 60 seconds, stirring constantly, until fragrant and lightly browned**. Add chicken broth and spaghetti. Heat to boiling. Reduce heat to medium, Simmer uncovered 13 to 15 minutes, stirring occasionally, until most of the liquid is absorbed and pasta is al dente**.
Stir in 1/4 cup of the Parmesan, the butter, lemon juice, lemon peel, and cooked chicken. Remove from heat. Gradually add spinach. Stir until starting to wilt**. Let stand 5 minutes before serving. Serve warm with remaining 1/4 cup shredded Parmesan cheese.
---
What I did differently in this recipe (the **'s):
I cut down the prep time by cutting the chicken up a couple of hours before I started to cook
I eyeballed this. So it might have been more or it might have been less.
I used Great Value.
That is worded awkwardly. Just take the spaghetti out of the box and break it in half. You will have to eyeball how much. Or, you could buy the pot sized spaghetti (yes, they sell that)
Make sure it is a huge lemon. I barely had enough peel from what I considered a large lemon.
I got my spinach at Aldis. They didn't have 5 oz bags, so I got 2 8 oz bags. See below for what I have to say about that.
I used a cast iron Dutch oven. Word to the wise, that sucker it H-O-T. I accidentally grabbed the handle to move it and burnt my fingers.
I put my chicken in a bread bag, put the seasoning in, and shook it until I was satisfied all the pieces were covered.
For some reason, this took longer for me. I don't know if it was because I used a cast iron Dutch oven but it took almost 20-25 mins for the water to be absorbed enough to my liking.
I only used 1 bag of spinach. It was also very difficult to stir. I ended up transferring to another pan, mixing it, and transferring back to the Dutch oven.
---
Was it hard to make: Nope, not at all. Would be easy for someone who is just starting out cooking to make.
How long did it take me to make (compared to the recipe's prep+total time): It took me longer. Even though I cut down on my prep time, it got eaten back up when I was waiting for the spaghetti cook and absorb the chicken broth.
Did BK and I like it: We both did. BK said that the spinach and chicken were cooked perfectly. His only complaint (which was mine also) was that it was a little too lemony. When I make it again, I will be cutting down on the amount of lemon used.
More importantly, did my kids like it: Two out of the three did. Miss B loved the chicken and pasta but didn't care for the spinach. Mr. Z cleaned his plate and wanted seconds. Miss R tried a bite of it and didn't like it. Said it tasted gross (I think she got a bite of the lemon). But she tried it and that's all I can ask for.
Will I make it again: Yup
Thoughts on the dish, after the fact: Fairly easy to make. Also very each to prep for. I would cut down on the lemon used. Other than that, excellent dish.
The difficulty of the dish: Beginner