WWW Wednesday is a weekly meme hosted by Sam at Taking on a World of Wars. So here what I have read/are reading/will be reading.
The Three Ws are:
What are you currently reading?
What did you recently finish reading?
What do you think you'll read next?
---
What's going on with me this past week:
Personal:
Thanksgiving was wonderful. We did something different with the turkey breast this year. BK put it in a brine overnight. Thanksgiving morning, he put it in our air frier. Yup in the air frier. It was one of the most delicious, moist turkey breast that I have ever had. The ham was pretty good too…lol.
I have a hectic week this week. Miss R and Mr. Z have parent/teacher conferences this week. I also have a meeting with Mr. Z's teachers and guidance counselor to go over his 504 plan.
This weekend is supposed to rain. Which stinks because I have 3 huge oak trees and they lost their leaves all at once. We need to rake/blow/mow (we have a mulching mower) all of them. Which we can't do if there is rain…sigh.
Reading:
Again, I am in a good place reading-wise. I am still slowly moving over my Amazon TBR to Goodreads. I have also gotten a few books off of my NetGalley shelf!! I have held back from adding books when those Read Now emails come.
---
What I am currently reading:
click on the picture for Amazon link
An action-packed, compelling historical fantasy, from the pen of an award-winning author
The battle-scarred warrior princess Bluebell, the heir to her father's throne, is rumoured to be unkillable. So when she learns of a sword wrought specifically to slay her by the fearsome raven king, Hakon, she sets out on a journey to find it before it finds her. The sword is rumoured to be in the possession of one of her four younger sisters. But which one? Scattered as they are across the kingdoms, she sets out on a journey to find them.
Her four sisters all have their own paths to tread, the gifted magician Ash is on a journey to find a dragon that could determine her destiny. The beautiful, unhappy Rose has left her undermagician Aunt and is speeding to the aid of her daughter, Rowan, who has been lost to her. Ivy, sold into marriage for the sake of an alliance, is now set to become the ruling Duchess of Seacaster with the imminent death of her much older and sick husband, and the power-hungry Willow is raising her infant child as a potential trimartyr king and training to be a warrior for the fanatical religious order Maava.
From the wild rocky coastline to granite-topped tors, from bustling harbours to echoing ghost towns, from halls of kings to ancient primal woodlands, this story follows five sisters upon whose actions kingdoms will rise and fall.
I have been reading this book for two days and I have only read a few chapters. Usually, I read when I go to bed but I have been so exhausted that I am asleep as soon as I go to bed. So far, what I have read has been fantastic. I just need to have a day where I do nothing but sit on the couch and read. Right now, Sisters of the Fire is on preorder. Expected publication date is February 5th, 2019. Look for my review after that date.
---
What I recently finished reading:
click on the picture for Amazon link
The next novel of psychological suspense and obsession from the authors of the blockbuster bestseller The Wife Between Us
Seeking women ages 18–32 to participate in a study on ethics and morality. Generous compensation. Anonymity guaranteed. 
When Jessica Farris signs up for a psychology study conducted by the mysterious Dr. Shields, she thinks all she'll have to do is answer a few questions, collect her money, and leave. But as the questions grow more and more intense and invasive and the sessions become outings where Jess is told what to wear and how to act, she begins to feel as though Dr. Shields may know what she's thinking…and what she's hiding. As Jess's paranoia grows, it becomes clear that she can no longer trust what in her life is real, and what is one of Dr. Shields' manipulative experiments. Caught in a web of deceit and jealousy, Jess quickly learns that some obsessions can be deadly.
From the authors of the blockbuster bestseller, The Wife Between Us comes an electrifying new novel about doubt, passion, and just how much you can trust someone.
I enjoyed this book until the end. I thought that it was a little anti-climatic the way it ended. I was left with a "WTH" feeling. But, I did enjoy the book. It definitely kept me on edge. An Anonymous Girl is currently on preorder. Expected publication date is January 8th, 2019. Be on the lookout for my review after that date.
---
What books I think I'll read next? (click on the pictures for Amazon links)
He won the election. He ended democracy. He built a wall of glass 1,000 meters high. Now, 150 years later, his descendants have infinite wealth and control the Sanctuary, a high-tech paradise for the rich where money equals rank.
She's from the slum. She has no money or rank. She vows to tear down the wall and end the nightmare.
Her weapon? Zero.
The blurb for this book caught my attention. I like dystopia this seemed like a good read. Expected publication date is December 2nd. Be on the lookout for my review after that date (also, I will update with an Amazon link as soon as the book goes live).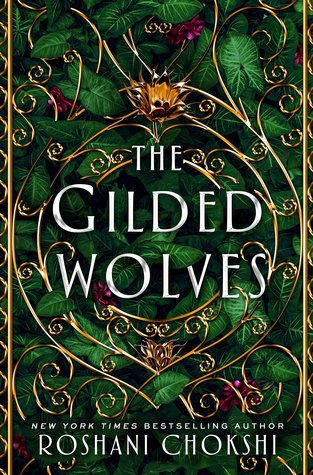 Set in a darkly glamorous world, The Gilded Wolves is full of mystery, decadence, and dangerous but thrilling adventure.
Paris, 1889: The world is on the cusp of industry and power, and the Exposition Universelle has breathed new life into the streets and dredged up ancient secrets. In this city, no one keeps tabs on secrets better than treasure-hunter and wealthy hotelier, Séverin Montagnet-Alarie. But when the all-powerful society, the Order of Babel, seeks him out for help, Séverin is offered a treasure that he never imagined: his true inheritance.
To find the ancient artifact the Order seeks, Séverin will need help from a band of experts: An engineer with a debt to pay. A historian who can't yet go home. A dancer with a sinister past. And a brother in all but blood, who might care too much.
Together, they'll have to use their wits and knowledge to hunt the artifact through the dark and glittering heart of Paris. What they find might change the world, but only if they can stay alive.
I am actually very excited to read this book. From the reviews I have read, this seems like I am going to enjoy it. The Gilded Wolves is currently on preorder. Its expected publication date is January 15th, 2019. Look for my review after that date.
A seemingly perfect marriage is threatened by the deadly secrets husband and wife keep from each other, for fans of B.A. Paris and Paula Hawkins.
Susannah, a young widow, and single mother has remarried well: to Max, a charismatic artist and popular speaker whose career took her and her fifteen-year-old son out of New York City and to a quiet Vermont university town. Strong-willed and attractive, Susannah expects that her life is perfectly in place again. Then one quiet morning she finds a note on her door: I KNOW WHO YOU ARE. 
Max dismisses the note as a prank. But days after a neighborhood couple comes to dinner, the husband mysteriously dies in a tragic accident while on a run with Max. Soon thereafter, a second note appears on their door: DID YOU GET AWAY WITH IT?
Both Susannah and Max are keeping secrets from the world and from each other —secrets that could destroy their family and everything they have built. The Perfect Liar is a thrilling novel told through the alternating perspectives of Susannah and Max with a shocking climax that no one will expect, from the bestselling author of The Headmaster's Wife.
This is another book that I am excited to read. I love suspense/thrillers and this book is right up my alley. The Perfect Liar is currently on preorder. Its expected publication date is January 15th, 2019. Look for my review after that date.
Rule #1: Never fall for your client.
Rule #2: Never fall for your client's fiercely protective, smoking hot sister-in-law.
I'm the kind of guy who believes that everyone deserves the best legal representation money can buy—which just so happens to be me, Lucas Wright. Give me your henpecked, your cuckolded, your irreconcilable differences yearning to break free! And if you're the bad guy in your marriage, that's cool too. Your green is as good as anyone's.
Tell that to Trinity Jones. It's my job to destroy her sister—the soon-to-be ex-wife of my a-hole of a client—and Trinity's "big sis" instincts are dialed up to the max. I admire that. I admire her. But she won't stop me from representing my client to the best of my ability.
Not even if my chemistry with Trinity is undeniable. Not even if we can't keep our hands off each other. Not even if she injects life into a heart assumed to be long dead.
 
Because when faced with a choice between love and duty, the job will always win—or at least that's what I thought before I met Trinity . . . and suddenly conflict of interest never felt so right.
I had read, reviewed and liked the first book in this series. So when I saw this book up for review on Loveswept's NetGalley page, I had to request it. Illegally Yours is currently on preorder. It's expected publication date is January 22nd, 2019. Look for my review after that date.
Someone took your daughter. And nobody believes you … 
Then: 
Three-year-old Ally was found alone in a parking lot. 
She was barefoot and dressed only in a yellow sundress. In the middle of winter. 
What kind of person would abandon their daughter? 
Now: 
Fifteen years later and Ally has a new family. 
But her real father has sent her a letter. 
And now Ally is missing. 
A gripping twist-filled thriller that will have you looking over your shoulder. Perfect for fans of Gone Girl, The Girl on the Train and Teresa Driscoll.
I am looking forward to reading this book. I have reviewed for the author before and he writes great books. So, I am expecting this one to be good. Keep Her Close is on pre-order. Its expected publication date is December 5th, 2018. Look for my review after that date.
In her engrossing new novel, Forget You Know Me, Jessica Strawser takes readers deep into an intimate friendship between two women. When one witness a shocking incident that should never have been caught on camera, the secrets and lies it exposes threaten to change their lives forever.
Molly and Liza have always been close in a way that people envy. Even after Molly married Daniel, both considered Liza an honorary member of their family. But after Liza moved away, things grew more strained than anyone wanted to admit—in the friendship and the marriage. 
When Daniel goes away on business, Molly and Liza plan to reconnect with a nice long video chat over wine after the kids are in bed. But when Molly leaves the room to check on a crying child, a man in a mask enters, throwing Liza into a panic—then her screen goes black. 
When Liza finally reaches Molly, her reply is icy and terse, insisting everything is fine. Liza is still convinced something is wrong, that her friend is in danger. But after an all-night drive to help her ends in a brutal confrontation, Liza is sure their friendship is over—completely unaware that she's about to have a near miss of her own. And Molly, refusing to deal with what's happened, won't turn to Daniel, either. 
But none of them can go on pretending. Not after this.
Forget You Know Me exposes the wounds of people who've grown apart, against their will. Best friends, separated by miles. Spouses, hardened by neglect. A mother, isolated by pain. The man in the mask will change things for them all.
But who was he?
And will he be back?
The blurb drew me in on this book. Plus, I like Jessica Strawser's books. Forget You Know Me is on pre-order. Its expected publication date is February 5th, 2019. Be on the lookout for my review after that date.
---
So that's it. Be on the lookout for the reviews of all these books in the near future.
Have you read any of these books?
Let me know what you thought of them!!