It is Foodie Friday. Every Friday, I will be putting up a recipe that I have made the previous week.
Today's recipe is:
Almond Sparkle Cookies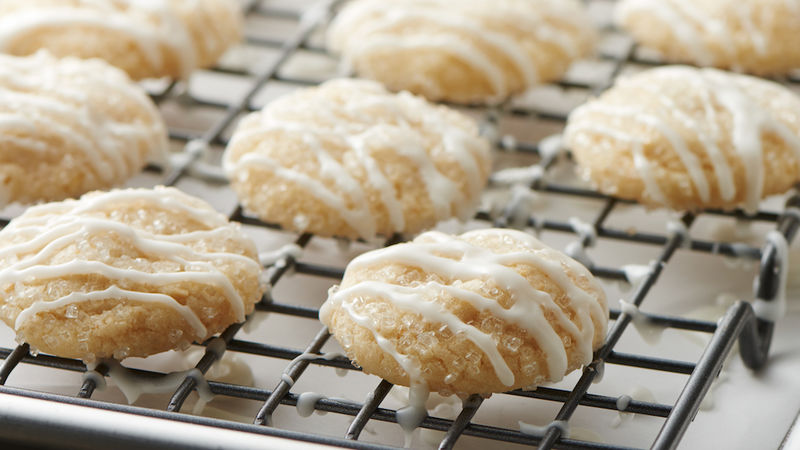 (recipe and picture courtesy of Pillsbury. Click on the picture for link to the recipe)
---
Prep Time: 20 min
Cook Time: 9-12 mins**
Cooling Time: 20 mins
Total Time: 1 hour 5 mins**
Ingredients: 7
Servings: 38
---
Ingredients:
Cookies
1 roll (16.5 oz) Pillsbury refrigerated sugar cookies**
1/3 cup roasted blanched whole almonds**
1/4 cup all-purpose flour
1/3 cup coarse sugar**
Drizzle:
1/2 cup powdered sugar
2 to 3 teaspoons milk**
1/4 teaspoons almond extract
---
How to make:
Heat oven to 350 degrees.
Meanwhile, in a food processor, place almonds. Cover, process with on-and-off pulses until finely ground**
In a large bowl, break up cookie dough. Add flour and ground almonds. Stir with spoon or hands until well blended**
Shape dough into 38 (1 inch) balls. Roll balls in coarse sugar. Place 1 inch apart on ungreased cookie sheets**
Bake 9 to 12 mins** or until edges are set but not brown. Remove from cookie sheets to cooling rack. Cool completely, about 20 mins.
In a small bowl, stir powdered sugar, milk and almond extract, adding enough milk for desired drizzling consistency. Drizzle over cooled cookies**.
---
What I did differently in this recipe (the **'s):
Surprisingly, cooking time was right on for this recipe. Which is amazing because my oven runs hot.
I don't think it took me an hour from start to finish. But I wasn't paying attention.
Normally I would have gone with Great Value or store brand sugar cookie dough. But I had a coupon (FTW) and got Pillsbury.
I got sliced roasted blanched almonds.
Used regular sugar because I forgot to get coarse. Worked just as well, though. Had no complaints.
Used 3 tsp milk.
My SO broke my food processor making laundry detergent (we make our own). So, I improvised. I took the smoothie attachment and used that to ground up my almonds. Worked great!!
I used my hands. Also, the dough will look like it won't hold together. It looked like sand but baked up great
See #1 in this section
I am not a good drizzler. Actually, this was my first time. FYI: a small spoon works wonders if you are going to do that.
---
Was it hard to make: No, it was pretty easy
How long did it take me to make (compared to the recipe's prep+total time): About 45-50 mins
Did BK and I like it: Amazingly, yes. BK hates nuts in his food. Hates them. But he liked this. He said the almond flavor was not overwhelming and the cookie texture was perfect. I gave a bunch to my across the street neighbor and Miss R's preschool teachers. Everyone raved about it.
More importantly, did my kids like it: Another first. Yes, they all did. Even Miss R, who is amazingly picky, thought these were great.
Will I make it again: Yes
Thoughts on the dish, after the fact: Fairly easy dessert to make. Would be wonderful around Christmas time.
The difficulty of the dish: Beginner