WWW Wednesday is a weekly meme hosted by Sam at Taking on a World of Wars. So here what I have read/are reading/will be reading.
The Three Ws are:
What are you currently reading?
What did you recently finish reading?
What do you think you'll read next?
---
What's going on with me this past week:
A whole bunch.
Personal: I am currently not on speaking terms with my across the street neighbor. Miss B decided that she was not going to turn in ANY of her homework. Which resulted in her failing two classes and be close to failing her other two. So, I had a meeting with her teachers this morning to see what we could do about it. Michael swept through the area, canceling Miss R's field trip to the apple orchard and causing flash flood warnings. Mr. Z had a field trip to the local science center the day Michael swept through. I need to say this "I hate rain!!!"
Reading: I have fallen behind with reviews and reading. Not by much and I hope to catch up over the weekend. I finally read Limits and it is a tear jerker. You definitely need a box of Kleenex when reading this book. It was totally not what I thought it was going to be.
---
What I am currently reading:
click on the picture for Amazon link
Sometimes love is just around the corner . . .
With her dreams of being a wedding dress designer suddenly over, Arianna Bell isn't expecting a holly jolly Christmas. Instead, her heart feels about three sizes too small. That is until her high school sweetheart Connor Gallagher returns to town and she finds his mere presence still makes her pulse race. But just when she starts dreaming of kissing under the mistletoe, he announces that he will be her opponent in the upcoming mayoral race….
Hot-shot attorney Connor Gallagher has something to prove. He's tired of playing runner-up to his high-achieving brothers. So when the opportunity to enter the campaign comes up, he takes it. Even if it means running against the only woman he's ever loved. But with a little help from Harmony Harbor's local matchmakers and a lot of holiday cheer, Connor and Arianna may just get the happy ever after they both deserve.
---
What I finished reading:
Click on the picture for Amazon link
For as long as she can remember Millie has had her limits. Staying within them keeps her isolated, safe; helps her to cope. Why then have they started to feel so stifling? Why is her loneliness starting to rival her fears?
When she watches him she wishes she could be normal; she wishes she could be like the people he interacts with so seamlessly. Pavlos Martakis is her complete and total opposite: physically intimidating, likable, naturally attractive, extremely confident, sexually promiscuous: the most uninhibited, charming, outgoing and free person she has ever encountered in her life. He fascinates Millie; thrills and intimidates her in equal measure.
But, as the culprit behind the invention of her nickname Nuclear Winter, Millie knows that if Pav feels anything for her it is more than likely contempt. Cold, boring, robotic: that is how the rest of the hospital sees her. So she can safely watch him from afar. He would never notice her … would he?
This book is a full-length contemporary romance of approximately 90,000 words with no cliffhanger and its own HEA. 
---
What I am reading next (click on the pictures for Amazon links):
Nyl Jayms is tasked with kidnaping the Elder princess, to force her brother, the king, to negotiate with humans. The alternative is a war that could lead to the annihilation of both humans and Elders.
A Rider Council faction, led by Nyl's father, is opposed to any negotiations. They will do anything, including sabotaging his assignment, to trigger a war.
Nyl and his team have to outsmart the king's elite Royal Guard, to get to the princess, and somehow stay one step ahead of the faction opposed to negotiations. Everyone will be forced to re-evaluate ideology they were raised with, as an impending war looms ever closer.
Join these elite rebel warriors on a journey of war, betrayal, and political scheming, in Until We Are Free. In this debut novel from TM Blayte, faces of friends, family, allies and enemies will blur. Loyalties will be tested, until the determination to be free becomes the only thing that matters. After all, does one person's freedom mean another person's oppression?
A brooding hockey hunk learns to embrace life—and love—from a single mom who takes the world one puck at a time.
Big move . . . Jodie's motto is "Don't wait for the perfect moment – take the moment and make it perfect." And that's just what she decides to do when she moves to Chicago with her two-year-old daughter. Now all Jodie needs is a place to live, and her best friend's boyfriend has just the answer.
Big stick . . . Nick Balachov has zero interest in socializing, partying, or flirting right now. It's not that he doesn't like women. He loves them. It's just that hockey, casual hookups, and hanging out at home are enough for him these days. Now Nick has a big problem – because the woman living in his empty coach house is a major distraction.
Big deal? The more Nick tries to keep his distance, the more Jodie needs him – around the house, that is. First he helps with the snowstorm, then the power outage. Nick even finds himself trying to impress her little girl. What the hell is wrong with him? Jodie represents everything Nick doesn't want. But maybe she's just what he needs. . . .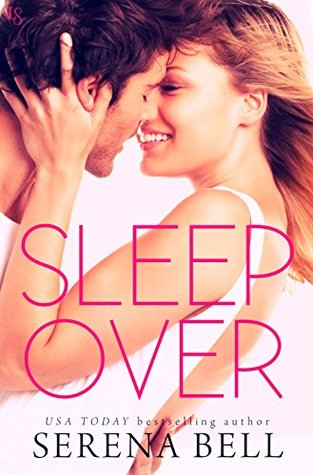 A brand-new contemporary romance from the USA Today bestselling author of Head Over Heels.
Elle and Sawyer just look so happy. Which is, of course, exactly how they end up.
But it's not an easy trip.
It was just supposed to be once.
It was just supposed to be sex.
But now they're next-door neighbors. And before they can put up their fences—or defenses—their eight-year-old sons have forged an unstoppable friendship.
They're still reeling—Elle, from a Facebook message she was never supposed to see, Sawyer, from the kind of death it's hard to live through. A relationship seems like a terrible idea. So they make a deal. One more blazing hot night, at Elle's ex-husband's wedding.
You know, because the "just once" thing has worked out so well for them …
An action-packed, compelling historical fantasy, from the pen of an award-winning author
The battle-scarred warrior princess Bluebell, heir to her father's throne, is rumoured to be unkillable. So when she learns of a sword wrought specifically to slay her by the fearsome raven king, Hakon, she sets out on a journey to find it before it finds her. The sword is rumoured to be in the possession of one of her four younger sisters. But which one? Scattered as they are across the kingdoms, she sets out on a journey to find them.
Her four sisters all have their own paths to tread, the gifted magician Ash is on a journey to find a dragon that could determine her destiny. The beautiful, unhappy Rose has left her undermagician Aunt and is speeding to the aid of her daughter, Rowan, who has been lost to her. Ivy, sold into marriage for the sake of an alliance, is now set to become the ruling Duchess of Seacaster with the imminent death of her much older and sick husband, and the power-hungry Willow is raising her infant child as a potential trimartyr king and training to be a warrior for the fanatical religious order Maava.
From wild rocky coastline to granite-topped tors, from bustling harbours to echoing ghost towns, from halls of kings to ancient primal woodlands, this story follows five sisters upon whose actions kingdoms will rise and fall.
Passion burns hot in Dragonfire, the next Dark Kings novel from New York Times bestseller Donna Grant. 

It was a soul-deep longing, one that got into his bones and settled there, sending whispers of desire through him. The need, the hunger, grew tenfold with every breath. . . .
As a Dragon King, Roman is sworn to protect all mortals–even though they no longer believe in dragons. But deep in the Carpathian Mountains, he discovers a beautiful and mysterious gypsy who possesses the power to see into his very soul. To reignite the fire in his heart. And to help him find the long-lost sword that could save the dragons forever…
Sabina remembers the stories her grandmother told her. Legends of dragons and kings, fire and ice. And she's never forgotten the dark prophecy that filled her ancestors with fear–a fate they tried to prevent by stealing a Dragon King's sword. Sabina knows that helping Roman is dangerous. He is a dragon betrayed, and more powerful than any man. He could destroy her in a single fiery embrace. But how can she resist the longing in his eyes–or the feelings in her heart–when their destinies are bound by desire?
Irresistible beats and tantalizing bodies heat up the night at South Beach's most scandalous new club.
Alex: I hate doing business in clubs. Especially one like Duality. I'm here to seal a deal, not indulge in whatever hedonistic illusion they're selling. Until, through all the skin and sex on display, I see her. Helen Blackwood. The girl who once filled my youthful fantasies, whose name is now synonymous with pain. Her father's lies destroyed my family, leaving me with nothing to lose. And yet I can't deny my electric response to her touch . . . or my urge to protect her when I see the bruise on her face.
Helen: Growing up, life prepared me for society galas and powerful men, not minimum-wage jobs or drunk exes with anger issues. But I'm a survivor. So here I am, practically naked, serving drinks at a Miami nightclub. I don't mind the stares. Apparently, Alex Archer does. After twelve years, we aren't exactly friends, but money is something we both understand. Something he knows I need. I'll be his personal assistant, even if it means working with the man I hate . . . and the man I still want.
No cheating. No cliffhangers. And no dress code.
From the acclaimed author of CLARA'S HEART and CLOUDLAND comes a rich, literary mystery based and united by two real events that occurred at Middlebury College; the disappearance of a student during winter break; and the vandalism of the Robert Frost Homestead located on one of the outer campuses.
Luc Flanders has just finished playing a game of pond hockey with his college roommates when he realizes he has lost something precious and goes back to the ice to find it. He never returns, and the police department in Middlebury, Vermont are divided in their assessment of what may have happened to him. Some feel that Flanders left on his own accord and is deliberately out of touch. Others, including detectives Nick Jenkins and Helen Kennedy, suspect that harm may have come to him. As the search for Luc Flanders widens and intensifies, suspicions about several different people, including his Middlebury College roommates and ex-girlfriend arise. Unfortunately, Sam Solomon an older man with whom Luc has been having a secret relationship, cannot prove his whereabouts during the hours when the younger man may have disappeared and Solomon, too, comes under suspicion.
BLACK DIAMOND FALL is at once a lush, evocative literary novel, a portrait of love between a younger and older man, and a riveting mystery that could only come from the mind of acclaimed writer Joseph Olshan.
---
So that's it. Be on the lookout for the reviews of all these books in the near future.
Have you read any of these books?
Let me know what you thought of them!!