It is Foodie Friday. Every Friday, I will be putting up a recipe that I have made the previous week.
Today's recipe is:
Smoky Beef and Brown Rice Chili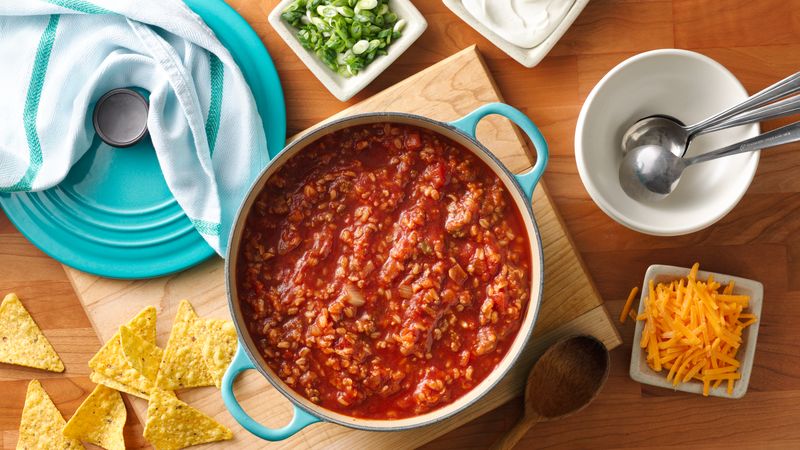 (recipe and picture courtesy of Betty Crocker. Click on the picture for link to the recipe)
---
Prep Time: 20 mins
Cook Time: 33 minutes**
Total Time: 53 mins
Serves: 8
---
Ingredients:
1 lb lean (at least 80%) ground beef
1 medium onion, chopped
2 cups hot cooked brown rice**
2 cups Old El Paso Thick'n Chunky salsa**
1 can (28 ozs) crushed tomatoes
1 can (15 oz) Progresso black beans, drained and rinsed**
1 cup beef broth or water**
2 teaspoons chili powder
1 to 2 teaspoons smoked paprika**
1 teaspoon ground cumin
1/4 teaspoon ground red pepper (cayenne)
Toppings such as shredded Cheddar cheese, sour cream, and tortilla chips, if desired
---
How to Make
In 5 to 6-quart stockpot, cook beef over medium-high heat, stirring frequently, until brown, drain. Add onion, cook 2 to 3 minutes, stirring frequently, until onion is tender and translucent. While browning beef, cook the rice**
Add remaining ingredients except for toppings. Heat to boiling, reduce heat to medium-low and simmer about 10 minutes to blend flavors.
Spoon into bowls to serve. Top with desired toppings.
---
What I did differently in this recipe (the **'s):
I included the cook time for the rice.
I used white rice.
2 cups= 1 jar. I also used Aldi's brand mild chunky salsa
I used Great Value black beans
Used beef broth.
I used regular paprika. I went to Walmart to pick up smoked paprika and it was $4. Wasn't going to spend that.
Felt I had to put cook the rice in the instructions.
---
Was it hard to make:
How long did it take me to make (compared to the recipe's prep+total time):
Did BK and I like it:
More importantly, did my kids like it:
Will I make it again:
Thoughts on the dish, after the fact:
The difficulty of the dish: