It is Foodie Friday. Every Friday, I will be putting up a recipe that I have made the previous week.
Today's recipe is:
Zucchini Cake with Cinnamon Cream Cheese Frosting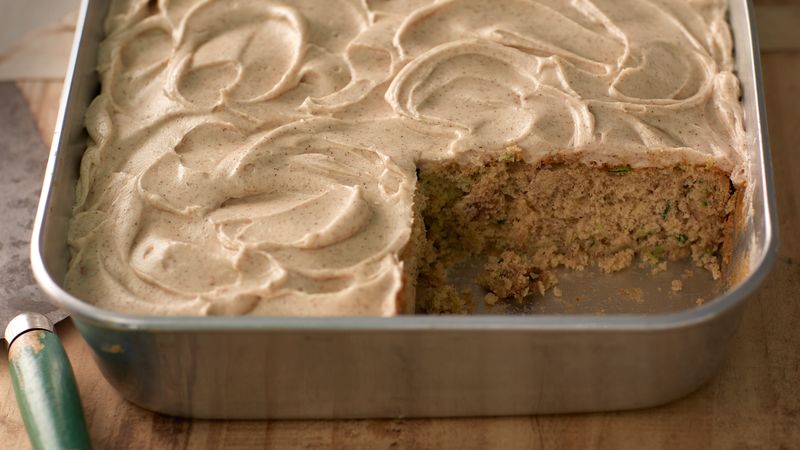 (recipe and picture courtesy of Betty Crocker. Click on the picture for link to the recipe)
---
Prep Time: 25 minutes
Cook Time: 35 to 40 mins**
Total Time: 2 hours and 5 min
Serves: 12
---
Ingredients:
Cake:
1 box Betty Crocker Supermoist yellow cake mix**
3/4 cup milk**
1/2 cup butter, melted**
3 eggs
2 teaspoons ground cinnamon
1/2 teaspoon ground ginger
1/4 teaspoon ground nutmeg
2 cups coarsely shredded zucchini (about 2 medium zucchinis)
3/4 cup chopped walnuts**
Frosting:
1 package (8 oz) cream cheese, softened**
1/4 cup butter, softened
1 teaspoon ground cinnamon
1 teaspoon vanilla
1 1/2 cups powdered sugar
---
How to Make:
Heat oven to 350 degrees. Spray bottom only of 13 x 9-inch pan with cooking spray
In large bowl, beat cake mix, milk, 1/2 cup melted butter, eggs, 2 teaspoons cinnamon, ginger and nutmeg with electric mixer** on medium speed for 2 minutes. Stir in zucchini and walnuts**. Pour batter into pan.
Bake 35 to 40 minutes** or until toothpick inserted in center comes out clean. Remove from oven to cooling rack**. Cool completely, about 1 hour.
In large bowl, beat cream cheese and 1/4 cup softened butter with electric mixer** on medium speed until smooth. Beat in 1 teaspoon cinnamon and the vanilla. On low speed, beat in powdered sugar until frosting is smooth and creamy**. Spread frosting on cake. Cut into 4 rows by 3 rows**. Cover and refrigerate any remaining cake.
---
What I did differently in this recipe (the **'s):
I used Great Value cake mix.
I used whole milk
The microwave is great for that. Popped it in for 40 seconds and the butter was melted.
BK doesn't like nuts, so I didn't use them in the recipe
Could use a stand mixer also
I have an older oven (think 50's era) and it runs 10-15 degrees hotter than a normal oven. I have learned to decrease the cook time by 5-10 mins. So I took the cake out after 30 mins.
Keep in the pan. Didn't say it in the recipe but I felt that I had to put it out there. Because there are people who would try to take a hot cake out of the pan and then complain when it falls apart.
Could use a stand mixer also
When you start beating, it will look like gravel for a few minutes. Keep it going and it will turn creamy.
I didn't do that. We like to choose the size of our cake slices…lol.
---
Was it hard to make: Nope, not hard at all
How long did it take me to make (compared to the recipe's prep+total time): It took me about the same time, give or take 5 minutes.
Did BK and I like it: BK did like it. He thought that the bottom of the cake was thick. I haven't tried it yet.
More importantly, did my kids like it: They haven't tried it. Pffft. But, my friend, her boyfriend, her stepfather and her daughter (who is friends with Miss R) tried it and loved it.
Will I make it again: Probably. Depends if everyone likes it or not.
Thoughts on the dish, after the fact: Was one of the easier cakes I had to have. The batter is pretty thick, which concerned me. But it baked beautifully.
The difficulty of the dish: Beginner