It is Foodie Friday. Every Friday, I will be putting up a recipe that I have made the previous week.
Today's recipe is:
Lightened-Up Stuffed Pepper Soup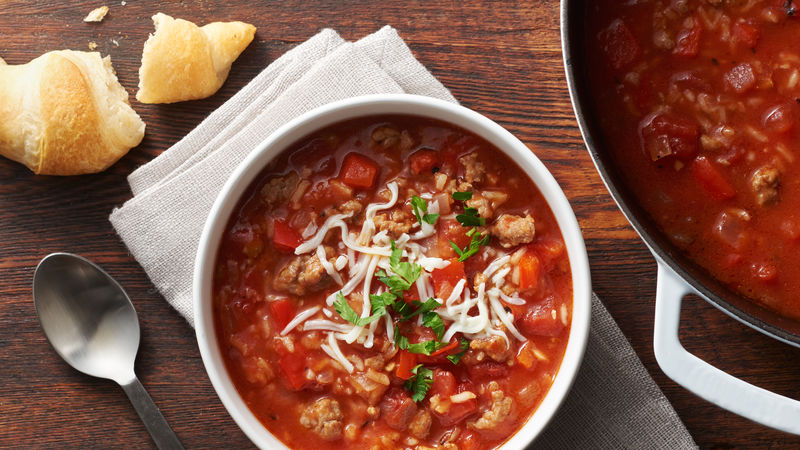 (recipe courtesy of Pillsbury. Click on picture for original recipe)
Prep Time: 35 mins
Cook Time: 20-25 mins
Total time: 55 mins-1 hour
Serves: 6
---
Ingredients:
2 tablespoons olive oil
1 lb lean (at least 93%) Italian seasoned ground turkey**
2 cups chopped yellow onions**
2 medium red bell peppers, diced (2 cups)**
1 teaspoon salt
1/2 teaspoon ground black pepper
5 cloves garlic, finely chopped**
1 carton (32 oz) Progresso chicken broth**
1 can (28 oz) Muir Glen organic fire roasted crushed tomatoes, undrained**
1/2 cup uncooked long-grain white rice
Chopped fresh Italian (flat-leaf parsley) leaves and shredded mozzarella cheese, if desired**
---
How to Make:
In a 5-quart Dutch oven**, heat oil over medium-high heat. Add turkey, onions, bell peppers, salt, and pepper. Cook 10 to 12 minutes, stirring occasionally until turkey is no longer pink and onions are translucent. Stir in garlic, cook 1 minute.
Stir in broth and tomatoes**. Increase heat to high, heat to boiling, stirring frequently.
Stir in rice, return to simmering**. Cover, reduce heat to medium-low. Cook 20 to 25 minutes or until rice is tender**. Top with parsley and cheese.
---
What I did differently in this recipe/ screw-up (the **'s)
1 I just realized, while typing this out, that the recipe called for Italian season ground turkey. Whoops…lol.
2 2 small onions
3 I used green. They were cheaper.
4 I used the minced garlic in a jar. I didn't feel like chopping garlic. So saved me time on prep.
5 I used Great Value chicken broth
6 I accidentally bought diced tomatoes
7 I didn't top with cheese or parsley
8 I used a cast iron Dutch oven
9 Because I used diced tomatoes instead of crushed, I needed to add something else. I added 1 tablespoon of tomato paste to it.
10 A misprint. Return to boil, not simmering.
11 I forgot to take into consideration that I was using a cast iron Dutch oven and I overcooked the rice.
---
Was it hard to make: Nope, not hard but I wouldn't recommend it for a beginner.
How long it took me to make (compared to the prep+total time): about 1 hour
Did BK and I like it: Yes
More importantly, did my kids like it: Miss R immediately said "Yuck" when she saw it. She is a boost to my confidence…lol. Miss B didn't want it. Mr. Z had a bite and thought it was delicious.
Will I make it again: Yes
Thoughts on the dish, after the fact: Not a hard dish to make but not an easy one either. This would be a good dish to make in the fall or winter.
The difficulty of the dish: Amateur