WWW Wednesday is a weekly meme hosted by Sam at Taking on a World of Wars. So here what I have read/are reading/will be reading.
The Three Ws are:
What are you currently reading?
What did you recently finish reading?
What do you think you'll read next?
---
What's going on with me this past week:
Unlike the eastern part of North Carolina, my area didn't get hit that hard by Florence. We had some branches down and rain. Which I am thankful for. Week 3 progress reports are coming home. Miss B is not doing that well in ELA or Science. Mr. Z seems to be doing well in his classes. Miss R is enjoying preschool. They had a field trip to an apple orchard yesterday and she came home with a bag of apples. This weekend, we have comic con. It was supposed to be last weekend but Florence happened. So it was rescheduled for this weekend. I can't wait to go.
Reading wise, I surprised myself. I ended up finishing all of my What I'm Reading Next and wrote reviews for them. Go me!!!
---
What I am currently reading: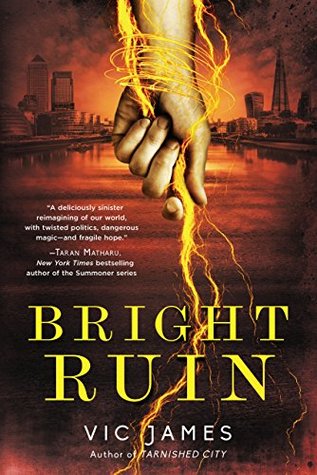 click on the picture for Amazon link
Magically gifted aristocrats rule–and commoners are doomed to serve. But a rebellion threatens the old order. The dystopian trilogy that began with Gilded Cage and Tarnished City concludes.
In a world where the lower classes must endure ten years of forced service to unfairly advantaged, magically powered rulers, a teenage boy dreams of rebellion, his older sister yearns for love and knowledge, and a dangerous young aristocrat seeks to remake the world with his dark gifts. In Bright Ruin, the final book in the trilogy set in modern-day England, our heroes will lead a revolution that will transform–or destroy–the world.
---
What I finished reading:
Click on the picture for Amazon link
In the near future, a woman is writing in the depths of a forest. She's cold. Her body is falling apart, as is the world around her. She's lost the use of one eye; she's down to one kidney, one lung. Before, in the city, she was a psychotherapist, treating patients who had suffered trauma, in particular, a man, "the clicker". Every two weeks, she traveled out to the Rest Centre, to visit her "half", Marie, her spitting image, who lay in an induced coma, her body parts available whenever the woman needed them.
As a form of resistance against the terror in the city, the woman flees, along with other fugitives and their halves. But life in the forest is disturbing too—the reanimated halves are behaving like uninhibited adolescents. And when she sees a shocking image of herself on video, are her worst fears confirmed?
Our Life in the Forest, written in her inimitable concise, vivid prose recalls Darrieusecq's brilliant debut, Pig Tales. A dystopian tale in the vein of Never Let Me Go, this is a clever novel of chilling suspense that challenges our ideas about the future, about organ-trafficking, about identity, clones, and the place of the individual in a surveillance state.
---
What I am reading next (click on the pictures for Amazon links):
---
So that's it. Be on the lookout for the reviews of all these books in the near future.
Have you read any of these books?
Let me know what you thought of them!!