It is Foodie Friday. Every Friday, I will be putting up a recipe that I have made the previous week.
Today's recipe is:
Easy Cake Mix Zucchini Bread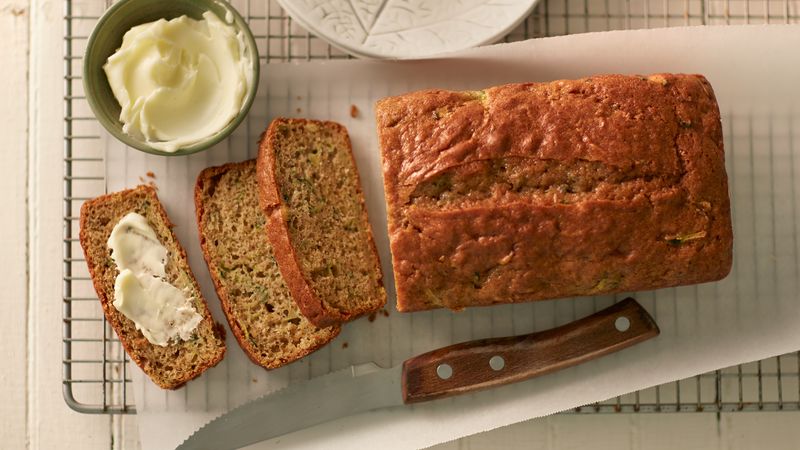 (recipe courtesy of Betty Crocker. Click on picture for original recipe)
Prep Time: 15 mins
Cook Time: 2 hour 10 min
Serves: 24
---
Ingredients:
1 box Betty Crocker Super Moist yellow cake mix
1 tablespoon ground cinnamon**
1/2 cup vegetable oil
1/4 cup milk or water**
3 eggs
2 cups coarsely shredded zucchini (about 2 medium)
---
How to make:
Heat oven to 350. Spray bottoms only of two 8 x 4 inch loaf pans** with cooking spray
In large bowl, stir cake mix, cinnamon, oil, milk, and eggs until well blended. Add zucchini, mix well. Divide batter evenly between pans.
Bake 45 to 50 mins** or until toothpick inserted in center comes out clean. Cool 10 mins. Remove from pans to cooling racks. Cool completely, about 1 hour. Wrap tightly, and store at room temperature up to 2 days.
---
What I did differently in this recipe/ screw-up (the **'s)
1 I noticed that the bread smelled very cinnamony when coming out of the oven. When BK had a slice, he said that it was almost too cinnamony tasting. So, I would suggest cutting down maybe 1/2 a tablespoon. Or if you want to live dangerously, put the whole tablespoon in. Your choice.
2 I used milk.
3 Dollar store FTW
4 The Cook Time is different for me. I have a very old oven that runs 15-20 degrees hotter when I am baking/cooking. So, I take that into consideration when I am cooking or baking. I took the bread out after 45 mins. It was <this close> to being burnt. It should have come out 10 mins sooner. But it still tasted great!!
---
Was it hard to make: Nope. It was easy.
How long it took me to make (compared to the prep+total time): It took me about 2 hours to make
Did BK and I like it: I haven't tasted it yet. But BK did like it. He did say that it was too cinnamony
More importantly, did my kids like it: They won't touch it. Because, you know, zucchini is in it.
Will I make it again: Yes
Thoughts on the dish, after the fact: Very easy. Would use less cinnamon.
The difficulty of dish: Beginner