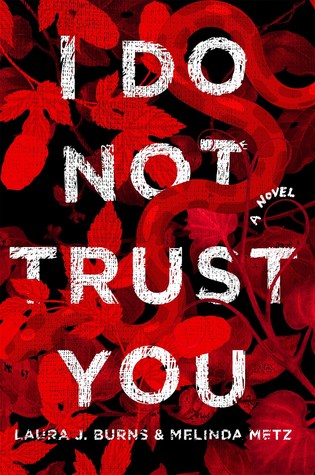 3 Stars
Publisher: St. Martin's Press, Wednesday Books
Date of publication: September 11th, 2018
Genre: Young Adult
Where you can find I Do Not Trust You: Amazon | Barnes and Noble
Book synopsis (from Goodreads):
Memphis "M" Engle is stubborn to a fault, graced with an almost absurd knowledge of long-lost languages and cultures, and a heck of an opponent in a fight. In short: she's awesome.
Ashwin Sood is a little too posh for her tastes, a member of an ancient cult (which she's pretty sure counts for more than one strike against him), and has just informed Memphis that her father who she thought was dead isn't and needs her help.
From the catacombs of Paris to lost temples in the sacred forests, together they crisscross the globe, searching for the pieces of the one thing that might save her father. But the closer they come to saving him—and the more they fall for one another—the closer they get to destroying the world. 
My review:
I Do Not Trust You reminded me of National Treasure. You know, the movie with Nicolas Cage where he goes on a treasure hunt to find a treasure hidden hundred of years ago. All the clues were on national monuments and he had to get creative in getting them. It also reminded me of the Indiana Jones movies. Mainly when Ash and M were trying to get to the clues. But this book fell short for me. As much as I enjoyed reading about Ash and M's antics around the world, it got repetitive towards the end. The plotline seemed like it was going in circles. I wasn't engaged. The end of the book did pull me back in because of what happened. If it wasn't for that battle scene, the book would have been a wash.
I liked M but couldn't connect with her. I couldn't wrap my head around a teenager who was an expert in long-lost languages and ancient cultures. She also acted so much older than what she was. If I didn't know that she was underage, I would have pegged her for at least 20-21. I did like her moves with the bo staff. It came in handy keeping away unwanted advances from boys and taking enemies out. I also liked how she took Ash under her wing.
I felt awful for Ash. It looked like he went from one abusive situation to another. There was a twist with him that surprised me. Not only with what he could do but what was done to him.  I wanted to smack the heck out of his parents for the years of abuse that they put him through. The things that they said and did to him were awful. All because of what he was. On the other hand, I didn't think that Patrick from the Eye was any better. Yes, he rescued Ash but he also kept him under strict surveillance. I liked how he got himself back towards the end of the book. He deserved it.
Like I mentioned above, I Do Not Trust You reminded me of a hybrid National Treasure/Indiana Jones. Since I liked both of those movies, I figured would like this book. And I did for the first half of the book. But the second half of the book got repetitive and the plotline lagged. It seemed like it was going in circles and I couldn't keep my interest in the book.
There is no romance in I Do Not Trust You. Which was amazing and one of the things I liked about the book. I like romance, a lot, but there are certain books where romance shouldn't be touched. I Do Not Trust you is one of those books. M and Ash's relationship was a friendship. Loved it!!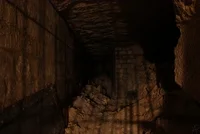 The locations where the clues were located were amazing. The one that freaked me out was the Paris Catacombs. I have read about that place and it is creepy. To have M and Ash actually go through them, chilling.
The secondary characters were kind of eh in I Do Not Trust You. Honestly, the only one that I liked was Mike. I was as surprised as Ash when they went to Thailand to see Mike. My reaction was laughter and I thought to myself "I should have known!!"
The end of I Do Not Trust You was amazing. It made up for the rest of the book. I also liked how the author left it open for another book.
What I Liked about I Do Not Trust You:
A) Ash and M's friendship
B) Interesting start of the book
C) Locations where the book was set
What I disliked about I Do Not Trust You:
A) The book was repetitive in the second half of the book
B) Plotline lagged
C) Plotline seemed like it was going in circles
I gave I Do Not Trust You a 3-star rating. This book was fantastic in the first half of the book. It had an interesting start and the locations caught my interest. Then the plotline both lagged and started going in circles in the second half of the book. It failed to hold my interest.  Now saying that the end of the book was able to grab and keep my attention.
I would give I Do Not Trust You an Older Teen rating. There is no sex (or kissing). There is mild violence. There is mild language. I would not recommend anyone under the age of 16 read this book.
I am on the fence about rereading I Do Not Trust You. I am also on the fence about recommending this book to family and friends.
I would like to thank St. Martin's Press, Wednesday Books, and NetGalley for allowing me to read and review I Do Not Trust You.
All opinions stated in this review of I Do Not Trust You are mine.
**I chose to leave this review after reading an advance reader copy**