It is Foodie Friday. Every Friday, I will be putting up a recipe that I will be making at some point in the near future.
Today's recipe is:
The Best Chocolate Cake Recipe Ever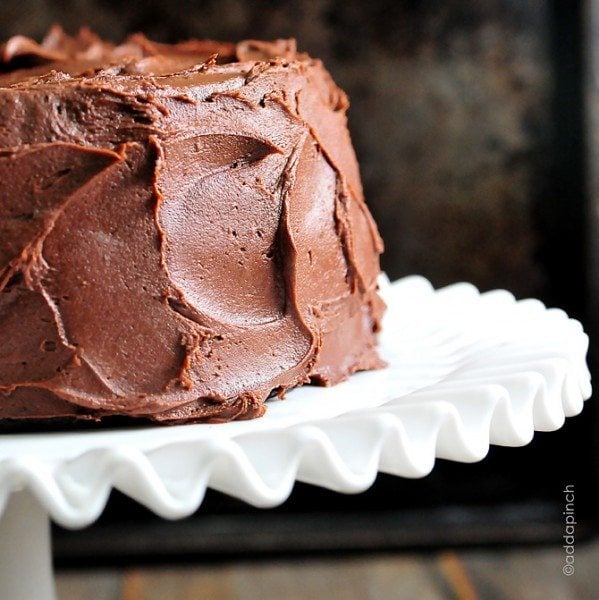 (recipe courtesy of Add A Pinch via Yummly. Click on picture for the recipe)
Interesting backstory to this recipe before I go into the details. I printed this out at some point last year. I went to make it in March and decided not to make it. Oh well, stuff happens. Well, it hung on my fridge from March to today (August 26th). It took me that long to get off my lazy butt and make this. Gotta say it was delicious.
Prep Time: 15 mins
Cook Time: 30-35 mins**
Total Time: 45-50 mins
Serving Size: 12
Ingredients:
2 cups all-purpose flour
2 cups sugar
3/4 cup unsweetened cocoa powder**
2 teaspoons baking powder
1 1/2 teaspoons baking soda
1 teaspoon salt
1 teaspoon espresso powder**
1 cup milk
1/2 cup vegetable or canola oil
2 eggs
2 teaspoons vanilla extract
1 cup boiling water**
You can either make your own chocolate frosting recipe or use store-bought.
How to Make:
1 Preheat oven to 350 degrees. Prepare two 9 inch cake pans by spraying with baking spray or buttering and lightly flouring.**
For the Cake
2 Add flour, sugar, cocoa, baking powder, baking soda, salt, and espresso powder to a large bowl or the bowl of a stand mixer. Whisk through to combine or, using your paddle attachment, stir through flour mixture until combined well.**
3 Add milk, vegetable oil, eggs and vanilla to flour mixture and mix together on medium speed until well combined. Reduce speed and carefully add boiling water to the cake batter. Beat on high speed for about 1 minute to add air to the batter.
4 Distribute cake batter evenly between the two prepared cake pans. Bake for 30-35 min, until toothpick or cake tester inserted in the center comes out clean.
5 Remove from the oven and allow to cool for about 10 mins. Remove from the pan and cool completely.
6 Frost cake
Notes (very important to the recipe!!): The cake batter will be very thin after adding the boiling water. This is correct and results in a very moist and delicious chocolate cake.
---
What I did differently in this recipe/ screw-up (the **'s)
1) The Cook Time is different for me. I have a very old oven that runs 15-20 degrees hotter when I am baking/cooking. So, I take that into consideration when I am making a cake.
2) I used 1/4 cup of cocoa powder instead of 3/4 cup. I misread the recipe. Didn't affect the recipe.
3) I didn't use espresso powder. We do not drink espresso. So, I had BK finely grind up some coffee. A little bit less than what the recipe called for.
4) I almost made a huge screw-up. I misread the recipe, again..sigh. I went to add 2 cups of water to the batter. I happened to pick up the paper and look at the recipe again and noticed it said 1 cup. Whoops. Almost a huge mistake. I measured out 1 cup of water, boiled it and went on with the recipe.
---
My overall impressions:
Was it hard to make: Nope, not hard at all
How long it took me to make (compared to the prep+total time): It took me about 40-45 mins from start to end
Did BK and I like it: Yes, we both did.
More importantly, did my kids like it: Mr. Z and Miss. B did like it. Miss R, on the other hand, said it was soo chocolately and didn't finish it (she's super picky)
Will I make it again: Yes
Thoughts on the dish, after the fact: Very easy dessert. Baring my reading issues with the ingredients, it was the easiest from scratch cake that I have made.
The difficulty of dish: Beginner