It is Foodie Friday. Every Friday, I will be putting up a recipe that I will be making at some point in the near future.
Today's recipe is:
Mongolian Beef Skillet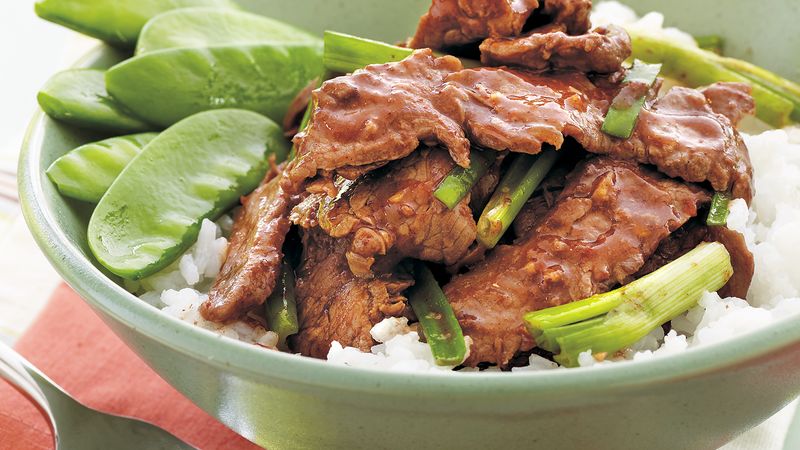 (click on the picture for link to the Betty Crocker site)
Ingredients:
1 beef flank steak (1lb), trimmed of fat, cut into thin slices
Butter-flavor cooking spray
1/3 cup hoisin sauce
2 tablespoons water
2 teaspoons finely chopped gingerroot
1 teaspoon roasted garlic (from 10 oz jar)
2 teaspoons dark sesame oil
1/2 teaspoon crushed red pepper flakes
4 green onions, cut into 1-inch pieces
How to make:
Heat 12-inch nonstick skillet over medium-high heat. Spray beef with cooking spray, add to skillet. Cook 3 minutes, stirring occasionally, until browned.
Meanwhile, in a small bowl, mix hoisin sauce, water, gingerroot, garlic, oil, and pepper flakes. Add sauce mixture and onions to steak, cook 1 to 2 minutes or until beef is desired doneness and sauce is slightly reduced (do not overcook). Serve immediately.
---
Sides:  BK and I make homemade Chinese on weekends. We make homemade cream cheese filled wontons, lo-mein and a broccoli/pepper/water chestnut mixture along with fried rice. I would think that would go great with this dish. If you want to go simple, plain rice and stir-fried veggies would go great also.
What to drink: Water, soda, beer, wine (either red or white…depends on your personal taste. Personally, I would have Zinfandel).
Prep time: 15 mins
Total time: 15 mins
Servings: 4 (I always double the serving size. But, I also have a family of 5 and I want leftovers for the next day)
---
I will come back and fill this section out once I make the dish (so, just ignore…lol)
Was it hard to make:
How long it took me to make (compared to the prep+total time):
Did BK and I like it:
More importantly, did my kids like it:
Will I make it again:
Thoughts on the dish, after the fact: