I've decided to do Throwback Thursday but blog style. I am going to select a book I have read before and see if I would still read it.
This week's Throwback Thursday is a fantasy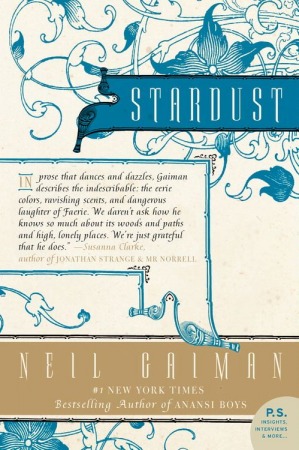 Click on picture for Amazon link
Life moves at a leisurely pace in the tiny town of Wall—named after the imposing stone barrier which separates the town from a grassy meadow. Here, young Tristran Thorn has lost his heart to the beautiful Victoria Forester and for the coveted prize of her hand, Tristran vows to retrieve a fallen star and deliver it to his beloved. It is an oath that sends him over the ancient wall and into a world that is dangerous and strange beyond imagining…
Other places you can find Stardust: Barnes and Noble
---
Did I like Stardust when I first read it: Yes. I had finished Neverwhere and was on the hunt for more Neil Gaiman's books. Saw Stardust at Barnes and Noble, picked it up and the rest is history.
Age I first read Stardust: I was in my mid 20's, I think.
Would I read Stardust now: Yes. I am a huge Neil Gaiman fan and love all of his books. But, I will say this…I refuse to watch the movie. My experience, the book is always better than the movie.
How many stars did I give Stardust back then: 4
How many stars would I give Stardust now: 4
Have you read Stardust?
Did you like it?
Let me know!!