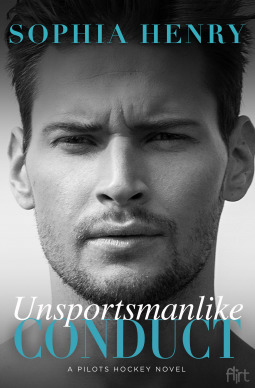 Title: Unsportsmanlike Conduct
Author: Sophia Henry
Publisher: Random House Publishing Group – Loveswept
Date of publication: October 18th, 2016
Number of pages: 248
Genre: Romance
Part of a series: Yes, Pilots Hockey
Delayed Penalty – Book 1
Power Play – Book 2
Interference – Book 3
Unsportsmanlike Conduct – Book 4
Standalone: Yes
Where you can find this book: Amazon
Goodreads synopsis:
The author of Delayed Penalty returns with the story of a free spirit who believes she's found forever with a playboy on a singles cruise. Discover why Kelly Jamieson calls the Pilots Hockey series "fun and flirty, warm and sweet."
Kristen Katsaros wants a life full of adventure and laughter. After a difficult childhood, her motto is to live each day like it's her last—because it just might be. So when Kristen's parents send her on a post-grad singles cruise in the Caribbean to meet a Greek husband, she promptly hooks up with the hottest guy she's ever met. Pasha's decidedly not Greek, but Kristen gives him a pass because he's got fun written all over his rock-hard abs.
Pavel Gribov, the cocky playboy of the Detroit Pilots hockey team, can score any girl he wants. But when a teammate drags him on a singles cruise, he can't resist the chance to help out a drop-dead gorgeous damsel in distress by pretending to be her boyfriend. Before long, the fake fling turns intimate,  fueled by something much deeper than lust.
Kristen and Pasha both agree to walk away once the cruise is over, but reality hits like a slap shot when Kristen finds out Pasha lied about everything. Just when she's ready to start living again, the two stubborn survivors must decide if they can bear to lose the best thing that ever happened to either of them.
Praise for the Pilots Hockey series
"Delayed Penalty is sexy, fun, and full of angst. Not only does Aleksandr dominate the ice, but he fights for what he wants outside of the rink as well. Will definitely read again!"—New York Times bestselling author L. P. Dover
"Delayed Penalty is such a rush! The romance is off the charts and Sophia Henry tackles real issues that tug at your heartstrings."—New York Times bestselling author Rachel Harris
"Hot Russian hockey player meets feisty tutor? Yes, please! Delayed Penalty is a unique New Adult romance that packs an emotional punch."—USA Today bestselling author Cindi Madsen
"Sophia Henry's hockey novels are fun and flirty, warm and sweet, with relatable heroines and swoon-worthy hockey heroes. They'll bring a smile to your face and warmth to your heart."—Kelly Jamieson, author of the Aces Hockey series, on Power Play
"With a strong heroine, a sexy hero, and a refreshing plot, Sophia Henry has scored a hat trick!"—Ashley Suzanne, author of the Fight or Flight series, on Power Play
My review:
Do not judge this book by the blurb or the cover. Seriously, please don't because they are seriously misleading (even though the guy is uber hot on the cover).
I went into this book thinking that it was going to be about a cruise ship romance that carried over into life after the cruise. And it does but (and stress but) the story is so much more. There is an actual story in this book. It isn't all about sex after Kristin and Pasha do the dirty and that is what I loved about this book.
I am not one to give spoilers, at all, but in order to give a truthful review, I am going to have to let one slip here. So, stop reading here and skip to the end if you don't want spoilers.
I loved Kristin's attitude towards life and in general. She was the most upbeat, positive person that I have ever read in a book. She has Cystic Fibrosis (which there is no cure…click here to read more about it). Even her outlook on Cystic Fibrosis is positive. While she will eventually die from it, she manages it through medications, exercise, and a healthy lifestyle. She also believes that she will not find a man who will stick by her after her HS boyfriend dumped her and basically told her that (and I really wanted to reach through the book and bitch slap that punk).
The only reason she was on that cruise was to please her parents. It was a singles cruise and the man who her parents want her to marry (who seemed to be a bit of a wuss, in my opinion) went on it too. Which didn't please Kristin too much. To get him off her back, she starts flirting with the first guy she crashes into (literally, she ran into him on the ship's track) which happens to be Pavel Gribov.
Oh my, let's talk about Pavel (aka Pasha) for a minute. He is beyond a hot mess. I mean, someone who tries to deliberately screw up his bestie's relationship has issues. Which he has. He blames himself for the deaths of his mother and abusive father. He drinks too much, has casual sex with too many ladies (manwhore alert!!) and throws himself into hockey. He was only on the ship to accompany his friend….not to meet anyone. But he meets Kristin and his world (and hers) gets turned upside down.
He isn't honest with her at all, which is a pretty sucky way to start any type of relationship. She knows this (he isn't even Greek, he's Russian. Oh and on that note, my mental voice had a Russian accent every time he spoke) but is still surprised when she finds out WHO he is and WHAT he does for a living. Remember the bestie I mentioned above….well, his bestie (well ex-bestie I guess) is getting married to Kristin's bestie. So, yeah, I can see why he wouldn't mention it to Kristin. And when she finds out, she is understandably beyond upset.
The sex was hot but like I said above, the focus of this book was more on the relationship between Pasha and Kristin. While it started off as InstaLust, it evolved into love (and not within the week…over 3-4 or so months). It was sweet, it was sad…..it was perfect.
The ending was what I thought it would be and the epilogue made me insanely happy for both of them. I think I might have to buy the next book to see if there is any mention of them….lol.
How many stars will I give Unsportsmanlike? 4
Why? It was more than a boy meets girl/has sex/falls in love/finds her outside of the cruise. So much more and I loved it!!!
Will I reread? Yes
Will I recommend to family and friends? Yes
Age range: Adult
Why: Sex and language
**I chose to leave this review after reading an advance copy**