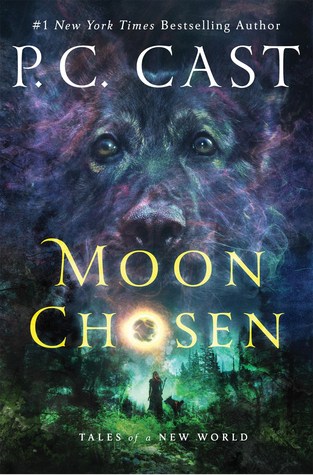 Title: Moon Chosen
Author: P.C. Cast
Publisher: St. Martin's Press
Date of publication: October 18th, 2016
How many pages: 608
Part of a series: Yes
What series: Tales of a New World
Moon Chosen – Book 1
Standalone: Yes
Where you can find this book: Amazon|Barnes and Nobles
Goodreads synopsis:
Chosen to embrace her true identity. Chosen to follow her destiny. Chosen to change her world.
Mari is an Earth Walker, heir to the unique healing powers of her Clan, but she has been forced to turn from her duties, until she is chosen by a special animal ally, altering her destiny forever. When a deadly attack tears her world apart, Mari reveals the strength of her powers and the forbidden secret of her dual nature as she embarks on a mission to save herself and her people. It is not until Nik, the son of the leader from a rival, dominating Tribe, strays across her path that Mari experiences something she has never felt before…
Now evil is coming, and with it, a force more terrible and destructive than the world has ever seen, leaving Mari to cast the shadows from the earth. By breaking Clan Law and forming an alliance with Nik, she must make herself ready. Ready to save her people. Ready to save herself and Nik. Ready to embrace her true destiny…and battle the forces that threaten to destroy them all.
My review:
Going to start off by warning you that this book is long, 608 pages. Probably one of the longest I have read to date. But the character and world building in it is beyond anything that I have read before.
We meet Mari as she is drawing a sketch of the myth, Narcissus and Echo. It is a game that her mother and herself play to amuse themselves. Mari and Leda are Earth Walkers and Leda is a Moon Woman. A Moon Woman brings down the moon to Wash her Clan, males of anger and Night Fever and females of sorrow. This has to be done every 3 days or the males go, for a lack of a better word, batshit crazy.
We also find out that Mari is a half-breed. She is half Earth Walker and half Companion. Companions are a race of people who live in the trees and have Shepherds or Terriers that are connected to them and they can read each other's thoughts. The Earth Walkers live in fear of the Companions because whenever they appear, the males are killed and the women are taken and never seen again. So it was amazing that a Companion and an Earth Walker fell in love and had a child. Mari was an infant when her father was killed. He was killed for committing what amounts to treason in the Companion society. He took fronds from a Mother Plant (something that I can't really explain….you need to read the book) and refused to tell where he was bringing them.
The book then shifts to Dead Eye, a young man chosen to be a Harvester of his People, the Skin Stealers, a cannibalistic tribe that lives in what used to be cities. Dead Eye has had an epiphany of sorts. He has realized that The Reaper, a Goddess that his people worship, does not speak through the Watchers and that she hasn't spoken in years, perhaps decades. He realizes that eating the flesh of The Others (the Earth Walker and Companions) is killing his people. While on a hunt outside his cities limits, he injures a stag and strips some of its body of its flesh…which he packs around his own cracked skin. It miraculously heals him and he takes it as a sign that he is the Champion. After pronouncing The Reaper basically dead (well that's what I got from it), he kills the Watchers, elderly woman, who speaks to her. That's when he meets Dove, an eyeless brunette beauty who calls herself an Oracle of the God. She becomes Dead Eye's mate.
We also meet Nik, a Companion who lives in the trees. Nik is upset because he hasn't been chosen by a Guardian (the Shepherds and Terriers) yet and is hoping that the newest litter will have a pup choose him. What ends up happening, instead, is that the last pup of that litter disappears while Nik has taken him down to the ground to use the bathroom. This leads to some pretty major events in the book that include Mari.
The author does explain what happens to divide a civilization. There were several intense solar flares from the sun that decimated Earth's population and drove people either to the forests (The Earth Walkers), to the trees (The Companions) or they stayed in the cities (The Skin Stealers). Beyond killing all technology, the solar flare mutated both animals and insects. Spiders and roaches are mentioned, a lot, and I got so skeeved out reading about them. The animals are able to communicate with their chosen Companions telepathically. After a time, the remaining people formed into the Earth Walkers, Skin Stealers and Companions (and they were mutated in ways too).
I am not going to go into the book much more after this because this post would take forever. Let's just say that friendships are formed, people are saved, people die and new alliances are formed. I honestly can't wait for book 2 to come out because I want to see what happens.
How many stars will I give Moon Chosen? 5
Why? A well written dystopian/fantasy. The world building and character building in this book, like I said above, is beyond anything that I have ever seen and I think has spoiled me for other books in the future.
Will I reread? Yes!!!
Will I recommend to family and friends? Yes
Age range? Adult
Why? Violence, a scene of the after-effects of rape and a scene of attempted rape.
**I chose to leave this review after reading an advance copy**