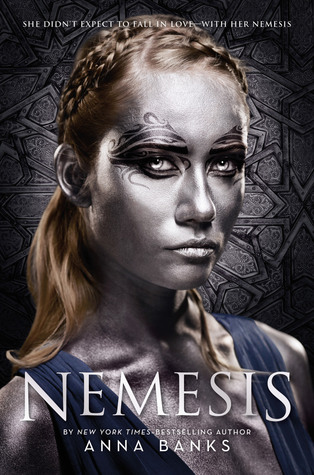 Title: Nemesis
Author: Anna Banks
Publisher: Macmillan Children's Publishing Group
Date of publication: October 4th, 2016
Number of pages: 368
Part of a series: Yes
What series: Nemesis
Nemesis – Book 1
Ally – Book 2 (expected publication date is sometime in 2017)
Where you can find this book: Amazon|Barnes and Nobles
Goodreads synopsis:
Princess Sepora of Serubel is the last Forger in all the five kingdoms. The spectorium she creates provides energy for all, but now her father has found a way to weaponize it, and his intentions to incite war forced her to flee from his grasp. She escapes across enemy lines into the kingdom of Theoria, but her plans to hide are thwarted when she is captured and placed in the young king's servitude.
Tarik has just taken over rulership of Theoria, and must now face a new plague sweeping through his kingdom and killing his citizens. The last thing he needs is a troublesome servant vying for his attention. But mistress Sepora will not be ignored. When the two finally meet face-to-face, they form an unlikely bond that complicates life in ways neither of them could have imagined.
Sepora's gift could save Tarik's kingdom from the Quiet Plague. But should she trust her growing feelings for her nemesis, or should she hide her gifts at all costs?
My review:
This book has been in my TBR pile since I heard that it was going to be published and when I got an ARC from NetGalley, I was beyond pumped. I couldn't wait to sit down and read it and when I did, I was completely absorbed in the story.
I absolutely loved Sepora. She was definitely ballsy. I mean, who would fake their own death, trudge across a desert, take on slave traders, save a half-fish/half girl cannibal (that she thought was a myth) and then escape from the royal harem? She would. She also had to hide the fact that she is a Forger of spectorium, a rare metal that all the kingdoms need. Not an easy task since she produces it like sweat but she has her ways.
I liked Tarik and felt a little bad for him. He had just lost his father to a mystery and incurable illness called the Quiet Plague that is running rampant through his people and, at the age of 18, is responsible for running the kingdom of Theoria. Which is a huge take but he has a hidden ace up his sleeve. He is a Lingot. A Lingot is someone who is able to tell if someone is lying just by listening to them. A very useful trait to have for a Pharaoh.
Which brings me to this. I was thrilled that the Theorians were modeled after the Egyptians. I have a strange fascination with Egyptian mythology and love it when any type is used in a book. I am still trying to figure out what Sepora's people, the Serbulians, are modeled after. I want to say Vikings but I am not too sure.
Sepora and Tarik's romance was a slow burn. There was an attraction but neither one of them did anything until almost the end of the book. Which worked for me because they were able to work on other aspects of their relationship. Like being friends.
Sethos has to be my favorite secondary character followed by Rashidi and Cy the Master Healer. Sethos was the epitome of a 15-year-old and I loved it. From wanting into the pharaoh's harem to just being the annoying younger brother, it was awesome….lol. I liked Rashidi because he was older and gave Tarik some sound advice and Cy the Master Healer because not only because he was a 13-year-old prodigy but he was willing to everything and anything to stop the Quiet Plague.
The ending of the book, I didn't really like. While I understand what happened had to happen, doesn't mean that I like it. Nothing was resolved and that meant everything in Book 1 will be carried over into Book 2. Which, for everyone's information, I am very about.
Oh, and I want to add that I absolutely LOVE the cover of the book!!!
How many stars will I give Nemesis? 4
Why? I loved the plot and the characters. The only thing I really didn't like was the ending (see above)
Will I reread? Yes
Will I recommend to family and friends? Yes
Age Range: Teen
Why: Very clean. No sex (just one kissing scene), no violence, no offensive language. Just some pretty descriptive scenes of the Quiet Plague
**I received a free copy of this book and volunteered to review it**