Before I start my review, I would like to thank Australian eBook Publisher and NetGalley for allowing me to review Black Ops Zulu by Arthur Bozikas.
**All opinions stated in this review are mine and mine alone. I received Black Ops Zulu from Australian eBook Publisher through NetGalley for free for my honest and unbiased review**
Now onto my review:
Title: Black Ops Zulu: Pivotal Velocity
Author: Arthur Bozikas
Publisher: Australian eBook Publisher
Date of publication: July 21st 2016
Number of pages: 221
Part of a series: Yes
What series:  Tom Stiles Thrillers
Black Ops Zulu: Pivotal Velocity – Book 1
Where the book can be found:
Amazon (Kindle)
Goodreads synopsis:
Tom Stiles. Businessman, adrenalin seeker, devoted father, Black Ops agent.
The Black Ops Trilogy explores the hidden connections between espionage, international fraud dealings and the deadly potentials of information technology. Although predominately set against urban Sydney backdrops, Stiles confronts the encroaching world of international crime and conceit.
Stiles is a conflicted character who measures materialism against ethics and desire versus love. His progression from suburban family man to government paid assassin is a brutal tale of emotional disintegration. The Tom Stiles thrillers are action packed character explorations of a man who is part philosopher, part killing machine.
The first in a series of thrillers starring Tom Stiles follows his journey from family man and fraud investigator to elite Black Ops secret agent.
The deaths of his parents and brother in a house fire when he was a child and, more recently, the death of his wife, have left Tom craving distraction in the form of an adrenalin rush.
"Black Ops Zulu: Pivotal Velocity" begins with a car crash and the death of Tom's latest lover, Natasha Mikula, daughter of Vlad – a member of the Chechen mafia.
As Tom struggles to hide his affairs from his current partner, Victoria, Vlad demands a dangerous favour that gets Tom in too deep with Cerberus, a criminal mastermind with links to international terrorism. When the Prime Minister of Australia appoints him as Chair of a new International Fraud Taskforce, Tom is left wondering if there's more to all this than it first seems.
Tom's fight to uncover these mysteries while holding onto his family and his secrets, culminates in a battle of epic proportions, played out in the suburban streets of Vaucluse, Sydney.
My review:
I want to start off by saying that I had the James Bond theme song running through my head nonstop while I was reading this book. And no, I am not joking. I also couldn't figure out if Tom, in my every wild imagination looked like
Sean Connery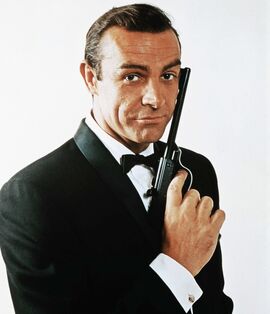 Picture Credit: http://www.jamesbond.wiki.com
or
Daniel Craig:
See my dilemma….lol. Seeing that the book is a spy novel, it makes sense that my mind would drift to, what I consider, two of the best looking James Bonds.
I thought Tom was a tool in the beginning of the book. He cheated on his partner, Victoria, basically their whole relationship. The night he decided to end it with his current girlfriend, Natasha, and recommit to Victoria was the night that he got into a horrific car crash. A car crash that involved Natasha….who was chasing him down to give him his cell phone and that set off a huge chain reaction of events that would change his life forever.
As the book goes on, we learn that Tom is pivotal in finding and stopping an embezzlement as an international fraud investigator….which puts him in the spotlight of some unsavory people. Very unsavory with names like The Leopard and Cerberus.
The action in this book was unbelievable. Tom is put into situations that would break most people (not going to giveaway anything…read the book) and to be honest, I wasn't surprised when he decided what he decided. It only made sense and oh boy, was it bloody!!!
The ending of this book was exactly what I thought it was going to be and I liked it. It also set up the next book perfectly.
How many stars will I give Black Ops Zulu: Pivotal Velocity? 4
Why? While I thought this was a great book, full of action, Tom's horndog ways and poor decision-making skills killed his character for him. The story, itself, was great and I loved it. Just didn't like Tom….lol.
Will I reread? Yes
Will I recommend to family and friends? Yes
Age range: Adult
Why? Sex and violence. Plus one very disturbing scene where Tom cuts the heads off of two guys who were holding his family hostage.