Before I start my review, I would like to thank Little, Brown Book for Young Readers and NetGalley for allowing me to read And the Trees Crept In By Dawn Kurtagich.
**All opinions stated in this review are mine and mine alone. I received And the Trees Crept In from NetGalley through Little, Brown Book for Young Readers as an ARC for my honest and unbiased review**
Now onto my review: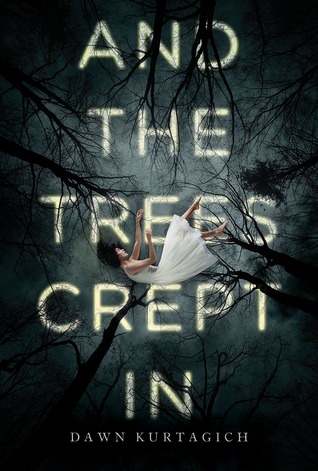 Title: And The Trees Crept In
Author: Dawn Kurtagich
Publisher: Little, Brown Book for Readers
Date of publication: September 06, 2016
Number of pages: 352
Where the book can be found: Amazon 
Part of a series: No
Book synopsis:
When Silla and Nori arrive at their aunt's home, it's immediately clear that the "blood manor" is cursed. The creaking of the house and the stillness of the woods surrounding them would be enough of a sign, but there are secrets too–the questions that Silla can't ignore: Who is the beautiful boy that's appeared from the woods? Who is the man that her little sister sees, but no one else? And why does it seem that, ever since they arrived, the trees have been creeping closer?
My review:
I stayed up until 1am to finish reading this book (which annoyed my husband to no end). To put it mildly, I had to finish this book because it had such a grip on me. It scared me to death and fascinated me at the same time. When I can't sleep after finishing a book because it creeped me out, you know that it was good.
This book is written in such a different fashion, it is hard to explain. One chapter, you are reading in 1st person (either Silla, Nori or Cath) and then you could be reading in 3rd person (Gowan). Normally, I don't like it when the book jumps around like that but in this case, it worked perfectly. You also get to read excerpts from Silla's diary that are really creepy. I won't go into it but I got the chills from reading it.
This book also fucks with your mind. I won't go into it but oh baby, things are defiantly not what they seem in this book!!!
Like I said above, this book is a mind fuck. The huge twist at the end totally threw me for a loop. Like I didn't even see it coming. Not a hint, nothing.
How many stars will I give And the Trees Crept In? 5
Why? This is a genuinely creepy book with an ending that makes you go "WTF".
Will I reread? Yes
Will I recommend to family and friends? Yes
Age Range: Young Adult
Why? No sex, some violence and is just very creepy!!