Before I start my review, I want to thank Tiffany McDaniel, NetGalley and St. Martin's Press for allowing me to review this book.
**All opinions stated in this review are mine and mine alone. I received  The Summer That Melted Everything from Tiffany McDaniel via NetGalley and St. Martin's Press as an ARC for my honest and unbiased review**
Now, onto my review: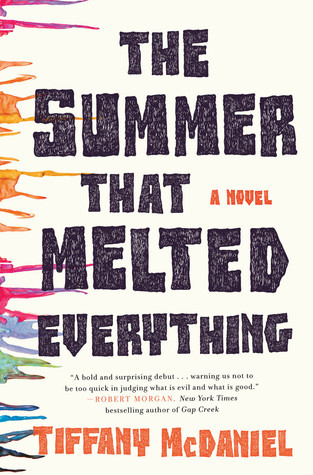 Format read in: Kindle
Author: Tiffany McDaniel
Publisher: St. Martin's Press
Expected date of publication: July 26th 2016
Where to find this book:
Amazon (Kindle, Hardcover, Audible, Audio CD). Please remember that this book is on preorder until July 26th. Also remember that the prices can and will change.
Part of a series: No
Number of pages: 320
Book synopsis (via Goodreads) :
Fielding Bliss has never forgotten the summer of 1984: the year a heat wave scorched Breathed, Ohio. The year he became friends with the devil.
Sal seems to appear out of nowhere – a bruised and tattered thirteen-year-old boy claiming to be the devil himself answering an invitation. Fielding Bliss, the son of a local prosecutor, brings him home where he's welcomed into the Bliss family, assuming he's a runaway from a nearby farm town.
When word spreads that the devil has come to Breathed, not everyone is happy to welcome this self-proclaimed fallen angel. Murmurs follow him and tensions rise, along with the temperatures as an unbearable heat wave rolls into town right along with him. As strange accidents start to occur, riled by the feverish heat, some in the town start to believe that Sal is exactly who he claims to be. While the Bliss family wrestles with their own personal demons, a fanatic drives the town to the brink of a catastrophe that will change this sleepy Ohio backwater forever.
My review:
I don't even know what to write here (which is a first) because the book was THAT good. It was written in such as way that you couldn't help but get sucked into it and then you can't put it down. Like I said, it is THAT good.
You get introduced to the Bliss family the first chapter of the book. Autopsy, Stella, Grand (short for Grandfather and Fielding's older brother), Fielding and Aunt Fedelia. Autopsy is the local prosecutor for the town of Breathed, where this story takes place. Autopsy decided, one day, to write a letter to the devil inviting him to Breathed and posted it in the paper. And guess, what….a young boy claiming to be the devil showed up right before a major heat wave.
This is where the story became very interesting and the author kept you guessing as to if Sal (Satan and Lucifer's name combined) was the devil. He had insight about the different relationships that were going on in the town that no 13 year old should know. But on the other hand, he acted like how an abused 13 year old should act. I never figured out if he was the devil or not.
Strange events started happening every time Sal went into town with Fielding, his father or Grand. The heat kept rising, a woman has a tragic accident, a mob is incited…stuff along those lines. So, to keep him safe, he isn't allowed out of the yard/house.
I will tell you, that the story is told in flashbacks from a 70 something year old Fielding….who suffers from what I think is survivor's guilt. Now, normally, I don't like it when books are told in flashbacks. I feel that you lose something from it. But in this case, it worked perfectly. You get to see the long term damage that was caused by the events of that awful summer/fall in Breathed and it is heartbreaking. The author also did a perfect job of leading older Fielding's memories and turning them into the story featuring younger Fielding.
Now, there was a huge twist in the story that I kinda sorta saw coming but didn't expect to be what it was. It involved Elohim, the midget and Fielding's former mentor and Sal's biggest enemy in town. I honestly did a WTF when it was revealed.
How many stars will I give The Summer That Melted Everything? 5
Why? This was a very well written book that will keep you glued to it until the very end. It will make you question things, make you laugh and make you cry.
Will I reread it? yes
Will I reccomend to family and friends? Yes
Age range? Adult
Why? Some strong language and violence